and of course with an unknown person …
♦ Varadero…♦
To understand the state of mind in which I found myself at night in Varadero, in the hotel lobby Arenas Doradas, looking for information on what could visit nearby, read the post « Some setbacks in Havana. »
So I was calmly flipping brochures when a man appeared. Fifties, in shorts, a tourist, relaxed, smile, ready to draw his little phrase of approach.
« What I want it again, » I said to myself …
We discuss while still leaning on the counter. He is a police commander in Canada, divorced, one child (a girl of about my age). I tell him my last 3 days, blasé. After 45 minutes, he offered me a drink. There « red alert », my green-red-yellow glitter lights came on. As the conversation was standing, she remained purely informal, there is clearly an invitation …
I refuse politely retire pretext that I am smeared, which is not wrong, a little bit of belly showed up and the desire to lie down arises. It offers to accompany me to my bungalow, which annoys me because it will know where I live …
The night was epic …
in my belly.
Go back to the bathroom, I have almost no sleep because a small gastro was said that night, « Oh, and if I would want to screw up the night Aurée, just to add a layer and that still has a story to tell … go … « .
I found sleep around 7 am in the morning '. When the phone rang.
– « Damn … Now that I finally managed to sleep what's the con … » (I become more and more common in this country …)
So I pick. And then a voice pervert … I'm not awake, I am afraid, I hang up immediately. Right after, I realize that this must be Canadian met yesterday with his accent « tabernacle » the phone, it hurt a pervert. Besides, I did not understand what he said because I was in the cabbage. I'm starting to freak out a little.
15 minutes later, a knock on my door. There, reaction I get up and soon I'll close the curtains so as not to be noticed my presence. The blows insist.
I bury myself under my sheet like refuge. And then it stops. Finally.
10 minutes after a key turns and the door opens. I see the cleaning lady enter. She looks at me and goes. There, I rise from the bed a little half naked when the Canadian landed with a red vest opened with 36,000 drugs is a big aid kit. Seriously, I would have liked a hidden camera to capture my face at that time. It had become a kind of David Hasselhoff out of the cult series « Baywatch » that would save my life.
– « I was a nurse in a previous life and as you were not going well yesterday I worried a lot … ».
Nevertheless his meds were 10 times more efficient than those bought in pharmacies before to counteract diarrhea.
The next day I was going much better.
And I saw my Canadian bubbling at the pool.
He wanted to rent a box to go to Trinidad, a city which I had talked a lot about the first night we met. It was still 200 euros in renting a car for five days. It was a little expensive for me. I made him understand that good as I was sick I preferred to stay in Varadero. In fact in my head, I was like « No more bullshit, huh. I not know this guy. I will not go on the obscure and dark roads with a stranger. »
I say my first « NO » in Cuba. History, what.
♦ Leaving on a whim … ♦
The day he left, I got up super early: 7am because I was finally hungry after two days of near fasting. So I went to breakfast and then I meet him.
– Oh, you've changed your mind, you come with me!
– Uh no, I will eat, I slab.
– Oh, because I'm ready to go …
– Have a good trip then!
I recrosses out of the restaurant … definitely. He stuck a GPS tag the guy …
– Here you are not left yet?
– No, the time to manage the papers of the car rental. I have to wait a little there.
Out of politeness, I look it.
– You really do not want to come? me he asks.
Suspicious, I did not want to leave with a stranger, an old and more. And I could already see down the line on bandwidth BFMTV programs: « CUBA: disappearance of a young French woman » …
– You know, you're right. I would like my daughter to react like you. I do not want her to go with the first unknown is very healthy from you. I will not sleep with you, it does not interest me. It's certainly more fun to be on two roads only. And it's me who pays the rent, you would not pay anything.
– Mmmhhh …
Since I had regained my appetite and strength, I was thinking « But what will I do stuck in Varadero, there is nothing to do. » I hesitated. Part of me wanted to discover Trinidad, another part wanted zero risk taking.
– So ?
I must have been hesitant to air it lies my question. And then there are times where you will not think about it, you get up and you say,
– Let me 15 minutes for my bag.
And I left running to prepare myself while telling me surprise: « What I have just said, but where it comes out so that I never wanted to say yes we had said no Hey oh??? there, the 36 people who live me? Who said so? We said no! Who said yes there shit! « .
It had never happened to you surprise you to say something you think otherwise?
After, everything was wonderful. We made a trip Cardenas-Perico- Santa Clara- Cienfuegos-Trinidad.
It was the Canadian expressions festival. I remember one where you had to basically relieve the boxing glove, understand « pee ». A cop thing I think …
He behaved like a prince, he refused me to pay anything. It was a way to balance my loss of my first days he told me not to bother me, no doubt. A true guardian angel and … police commander with him so I was under close protection at night and on roads where we had a few scares (but Mom's going all went well 🙂
To conclude this post, I would end with a quote from my Canadian guardian angel:
« Must validate their impressions before giving confidence »
dixit my police commander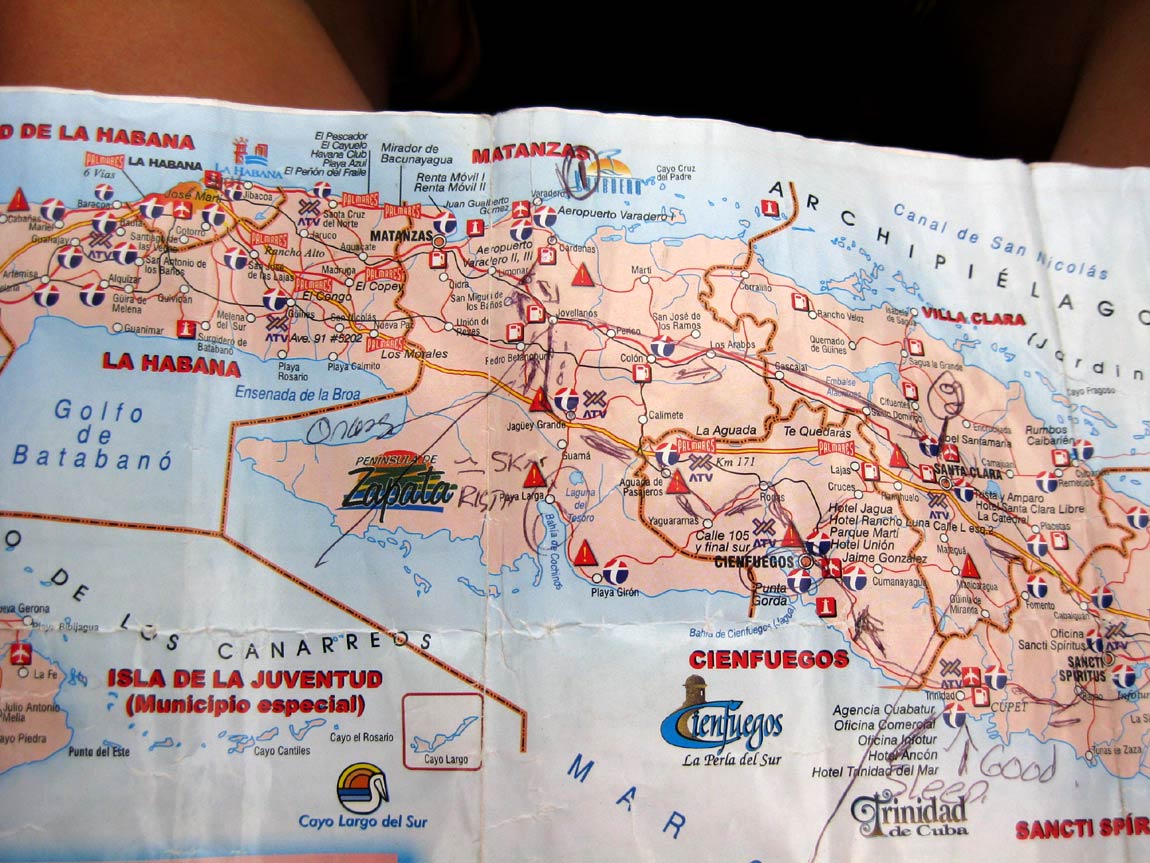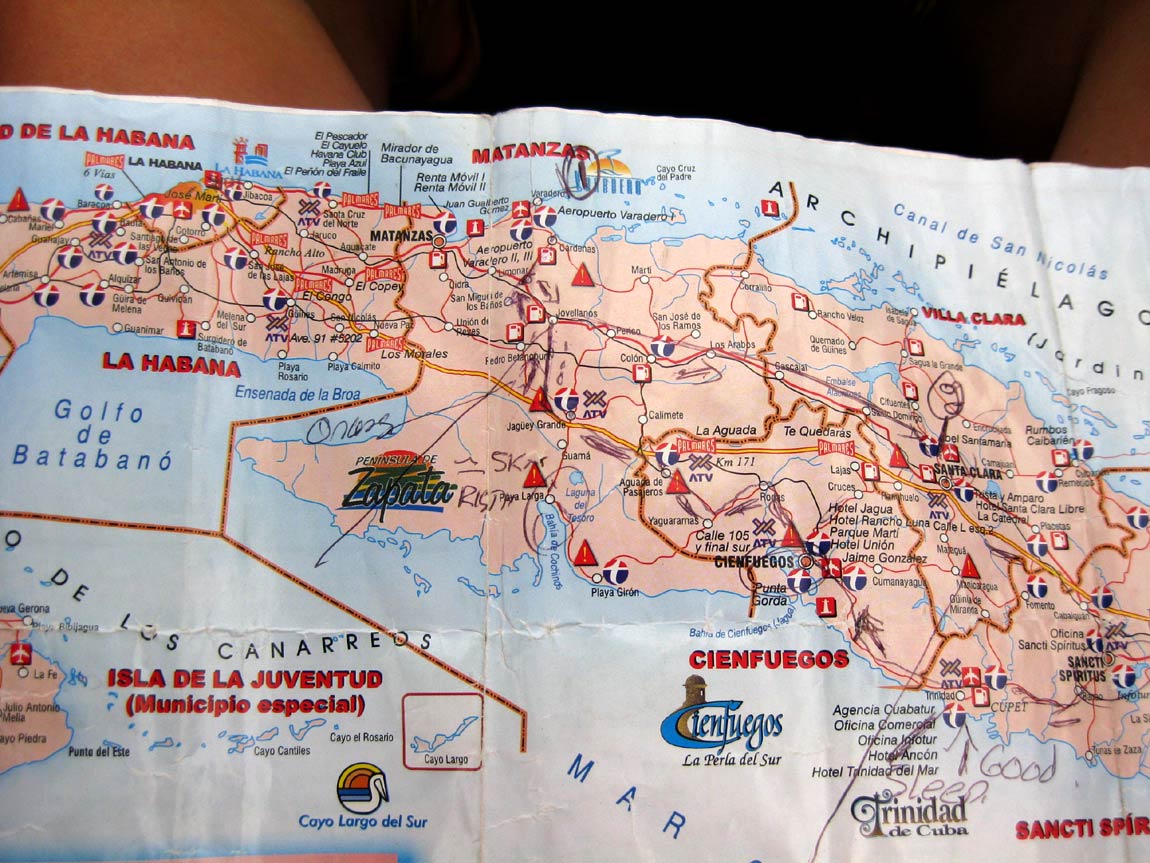 Map…
♦ Càrdenas ♦
♦ Perico ♦
♦ Santa Clara ♦
♦ Route retour par les montagnes ♦