"S E R E N I T Y…"
… First sensation that strikes in mind when entering the courtyard of the hotel Sahara Star. Pool, mini waterfall and Shaolin monks statues blooming in every corner literally cut us to the moist heat and the bustle of Mumbai.
After spending the day trudge in the city, the hotel is a true haven of peace refined (spaces are scented with jasmine) and comforting (the staff is very attentive). Knowing in addition the hotel has a spa which I enjoyed during a massage session.
The hotel had provided a chauffeur for 3 days. It was very significant.
I spent 4 nights in a spacious room, nice, clean, simple decor with a private bathroom with bathtub and shower.
A little courtesy tray held out our arms. Our room has a private balcony with views of the interior covered by a transparent dome, overlooking gardens patio and an artificial lagoon. During the day, if this roof may seem oppressive to some people, the night he dons lights and gives a magical note.
The offer "World food" (variety of continental, Indian, Chinese, etc) is highly diversified (9 restaurants), the food is good, one is almost lost to the abundant buffet. The breakfast is plentiful and quality.
It was also some business by purchasing dozens of cashmere shawls in the hotel shop.
Sahara Star is the only moment of luxury I offered myself in India …
○ Informations ○
Sahara Star hôtel *****
Address : Mumbai Domestic Airport, Vile Parle (East), Bombay 400 099, Inde – 00 91 22 3980 7444
Website : http://www.saharastar.com/index.aspx
Type : 5 stars hotel
The + : Hotel excellent as between 2 airports: 20 minutes from the International Airport and 5 minutes from the domestic airport (perfect for business), swimming pool, massage, disco
Room price : € 120 on average


| Informations | Valuation |
| --- | --- |
| Room | [usr 8] |
| Cleanliness | [usr 9] |
| Location | [usr 8] |
| Breakfast | [usr 9] |
| Restaurant | [usr 8] |
| Bar | [usr 9] |
| Comfort | [usr 9] |
| Equipment (gym, swimming pool, bar, spa, restaurant…) | [usr 9] |
| Wifi | [usr 8] |
| Vibes | [usr 7] |
| Price /quality | [usr 9] |
| Opinion | [usr 9 max="10″ text="false" img="03.png" size=20] |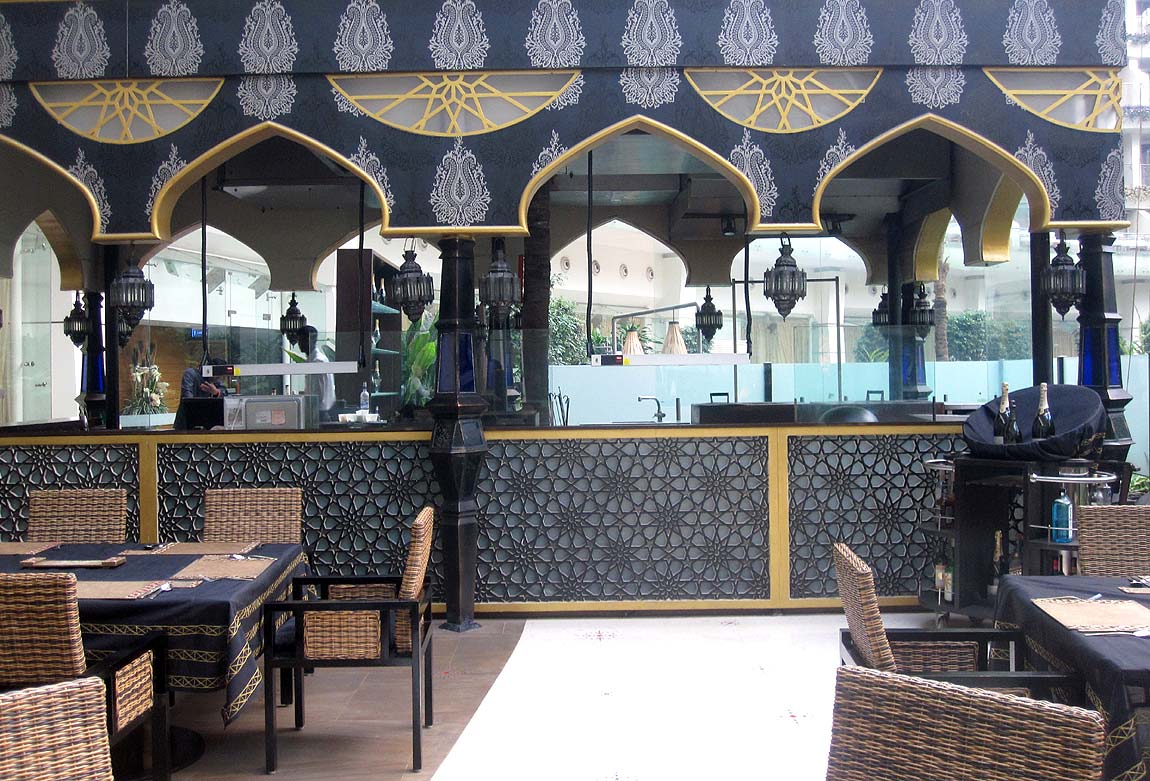 The Earth Plate the restaurant serves a selection of Italian, Mediterranean, French, Asian and Indian regional specialties. The Namak, meanwhile, is the specialist of Indian cuisine restaurant Sahara Star. This property also has Ocean – The Pan Asian, the Lagoon Lounge and much more.