Applies only to destinations « warm » …
○  What kind of traveler am I ? ○
A backpacker in style.
you say nonsense!
And yet I am this crossing. Not finding myself in the adventurous backpacker without make up, dressed without aesthetic research beforehand betting everything on comfort nor in the traveler too primed who do not travel without his vanity fair, heels on the plane and a suitcase 30 kilos so 20 beauty products and devices of all kinds (epilator, hair dryer …).
Between these two stereotypes there is me! And many people will you tell me …
I took the backpacker, the backpack, the travel solo and out a bit of the beaten track.
But I like the style, comfort and beautiful locations. In my small suitcase, there is the minimum for both me marches of more than 5 hours or « fall » at a party « chic ». In short, neither backpacker or tourist on Sunday or girl coming out of a fashion magazine, I am a mixture of all that.
It was important to clarify what type of traveler I am for how I selected the contents of my suitcase: the composition suffers …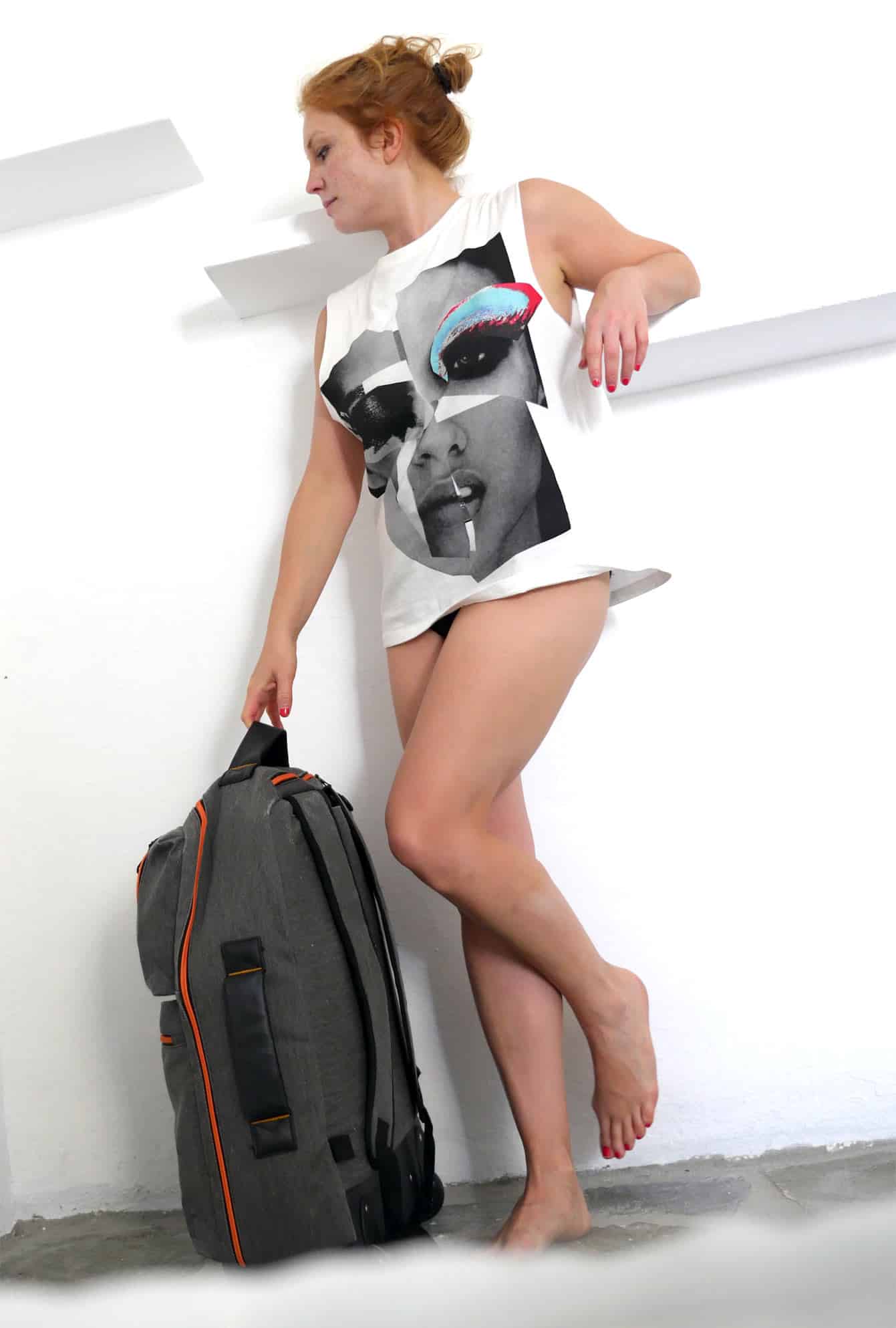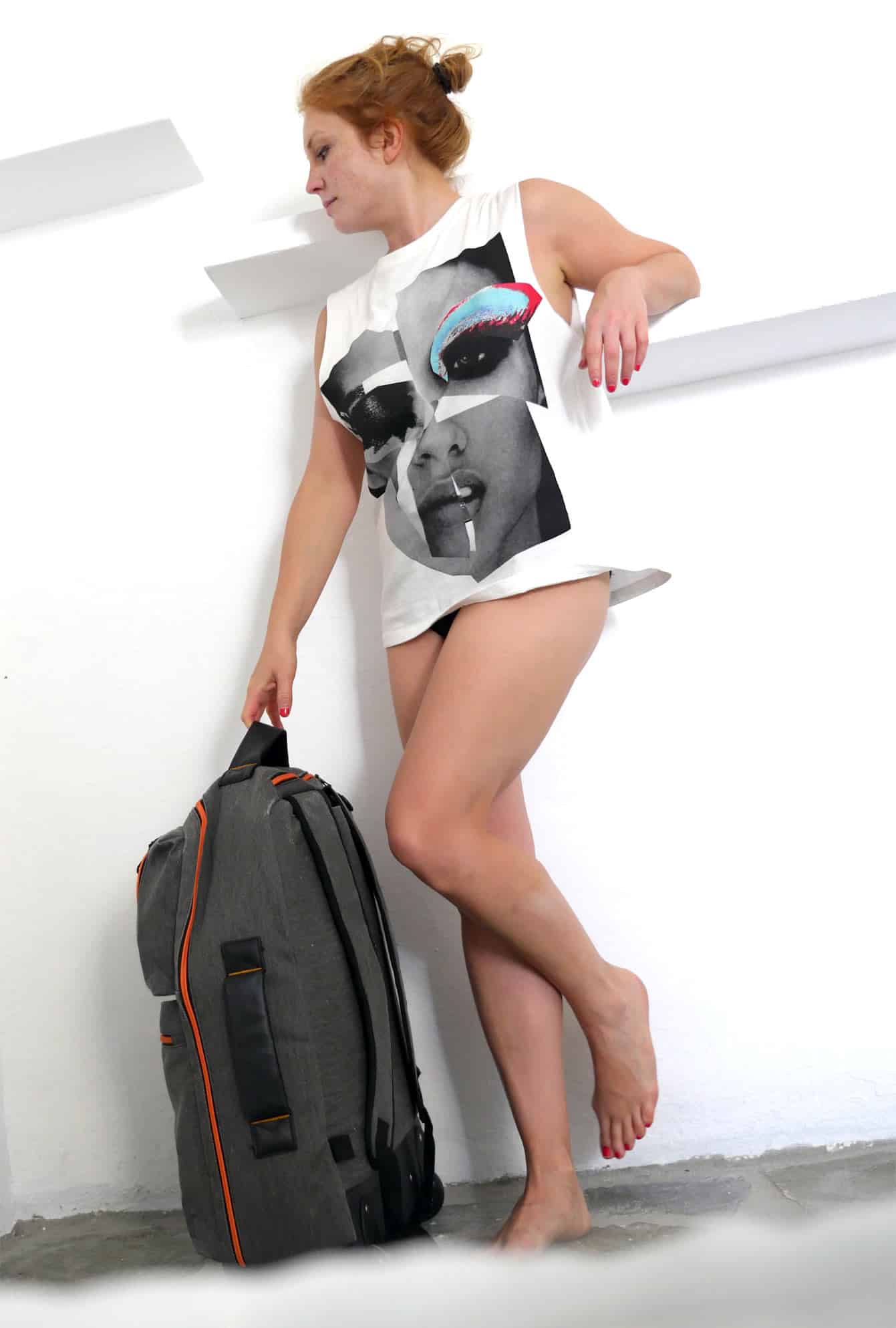 ○ The cabin suitcase ○
The hand baggage must not exceed the dimensions :  55 x40x20.
If you take a purse or a computer, all must not exceed 10 kg generally. But check the dimensions and instructions for each company before departure to avoid unpleasant surprises.
So I have a device to calculate the weight of my bag before departure. I always try to be 8 kg. If I want to make me happy gift …
So we had to find a cloth bag that does not exceed 2kg. Because if you go with a cabin bag 3.5kg, 1.5kg you have to sacrifice business. Pity. The best is a backpack 1.4 kg but …
My dream was to find a cabin trolley suitcase cloth with backpack straps, making less than 2 kg and remains « stylish ». Sometimes I want to hang my bag but at times it is more convenient to carry on the back (stairs, beach …). Having these two options is very cozy.
But it is a challenge to find this sheep with 5 legs …
I still found in Cabin Max, luggage approaching.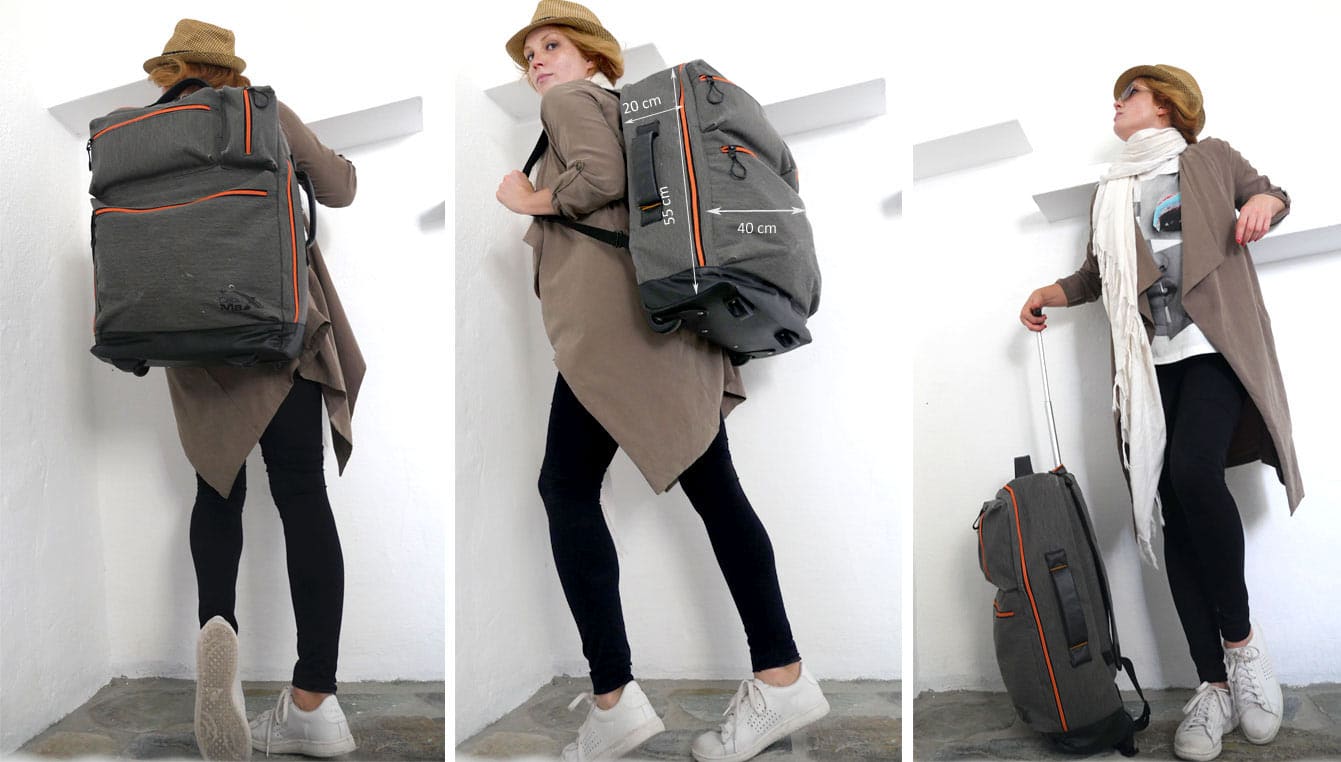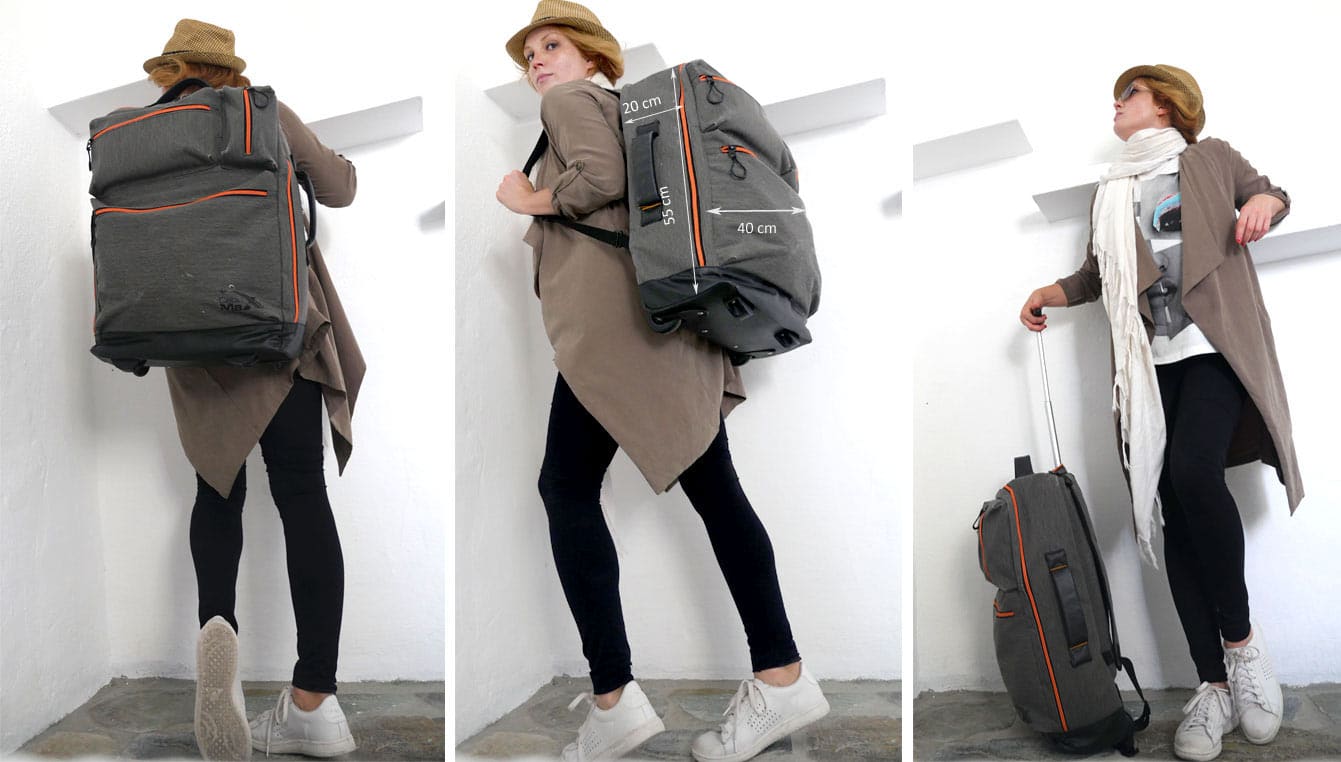 It is larger than the other cabin baggage yet its dimensions are 55 x 40x 20 with a weight of 2kg.
My opinion: following a first trip, I have a mixed review. It certainly met all my criteria: cabin bag with pockets, not rigid, which makes trolley and backpack. But its very affordable cost is reflected in the quality levels of materials. It is not very strong, once completed, it does not stand on the wheels, the straps of the backpack hurt a bit, I have broken the loop of the zipper of a trip, it deforms quick. It lacks a strap inside to prevent clothes so move when opened is a mess, everything is mixed.
The idea is very good but it would not have bothered me to pay more if the product was following issue solidity and quality.
In short, if you know this gem …
○ My tips for saving space ○
the tendency was to overload your luggage because of the « in case ». Ask yourself and think: « Did you really need this tablet, this pair of shoe? »
If you are used to travel, to have strength you removed some experience: remind yourself everything finally you have never used.
Here are my tips to help you optimize your luggage:
►Créer outfits before going to meet with the high down. Inevitably reduce the pile of clothes to carry.
► Roll not fold his clothes in his suitcase
► Take perfume samples.
► Use travel pots
► Try to max to make beauty products in solid form to avoid storing them in the small kit of special plane toilet: a solar stick instead of a sunscreen, moisturizing mask cloth instead of a pot of cream soap and shampoo hard. Personally, I wash my hair once a week max 2 so I take instead of shampoo samples
► Try as much as possible to make multipurpose items: soap making body and hair, making sarong scarf and towel, leggings, shorts or dress that also pajamas.
► Homéoplasnime: This small tube will replace both your lip care, anti-irritation cream relieves a small burn. And more. A 3 in 1 product.
►A the airport, have a jacket with pocket for shielding a max deal about itself. I always wear the larger business on me (under-sweater, sneakers, jewelry if I die).
► At the airport, keep your hat (or cap) on your head (for style and not to crush)
► At the airport, bring your sarong your neck, sneakers or walking shoes with whom you can walk far in both town and country.
► Guide: have everything in your phone. Take pictures in the pages that interest you. A guide that is too heavy.
► Buy locally razor and sunscreen. (Within waxing armpits with wax before …).
► Do not carry moisturizer: sunscreen everything.
► I take all my samples after-sun creams or I fill my jars. And I use the rest of my masks moisturizing cream fabrics for the other parties of the body (in cheapskate mode) or Homeoplasmine.
► Do not book or magazine. Or max 2 pocket to put in the pockets of his jacket. Or buy them at the airport as these purchases do not come into account in the weight of the bag. If you thought a reading light?
► To save space, money and work for the environment, I use the cup to the rules.
► Question handbag: a sturdy tote bag for the beach, a soft bag for the camera and the sea and a pouch out if evening. I do not carry real handbag.
► What to do before: waxing and polish semi-permanent. I do not carry with me or varnish remover.
► The smallest bag has to be thin fabric. The smallest weighs gram.
► Removing any unnecessary paper return. Dump All samples and jars.
► I always take a bag of almonds: to avoid buying anything in case of munchies during transport or travel.
Google Traduction pour les entreprises :Google Kit du traducteurGadget Traduct
The advantage when you travel light: you do not suffer in carrying your luggage and you do not perspire. It's important to stay stylish and walk with class and lightness …
○ Vhic list the contents of my suitcase ○
I took photos at departure so the clothes seem a bit « tired » 🙂
Personally, I take my favorite clothes in which I am beautiful, well and fit all my outfits. (And if possible that do not wrinkle)
Well, I like black and white.
I created a list of travel profile: I show you below me going 12 nights, 13 days. All were reported at least once.
○ Clothing ○
> 6 white tops (long sleeve shirt, sleeveless shirt, top hook beach, 3 stevedores)
> 3 black top (2 sleeveless silk one position over a top °
> 1 flexible jacket
> 1 skirt
> 2 shorts
> 2 playsuits
> 4 dresses
> 3 swimsuits
> 3 bra: a black bib, 1 chair and 1 headband white headband
> As much as breeches of days (you can take less and wash on site)
> 3 pairs of shoes: tong, basketball, sandals
> Worn airport: 1 under-sweater, leggings 1, 1 shirt, 1 vest, hat, sunglasses, basketball rings
○ Pocket ○
> Purse
> Credit card
> Carte Vitale
> Identity card if Europe (as always lighter than the passport
> Handkerchief Package
> Key
> Portable charger +
○ Toilet Case ○
> Sunscreen
> Micellar water
> Cleansing
> Gel mercurochrome
> Compressed Deodorant
> Shampoo bag
> Toothpaste
> Homeoplasmine
> Scrub pot
> Perfume sample
> Argan oil spray
> Fabric Masks
○  Cosmetic Bag ○
> Mascara
> eyeliner
> Concealer
> Lipstick
> Nail file
> Sharpener
> pencil
> Eyebrow mascara
> cotton
> Swab
> Tweezers
> dressing
> Solar stick
> Toothbrush
> Soap
> Tylenol
> Retractable comb
○ Accessories ○
> Headband head
> 1 belt that goes with everything
> Hair Elastics
> 1 headband
> Camera + respective charger.
Don't  forget your medication …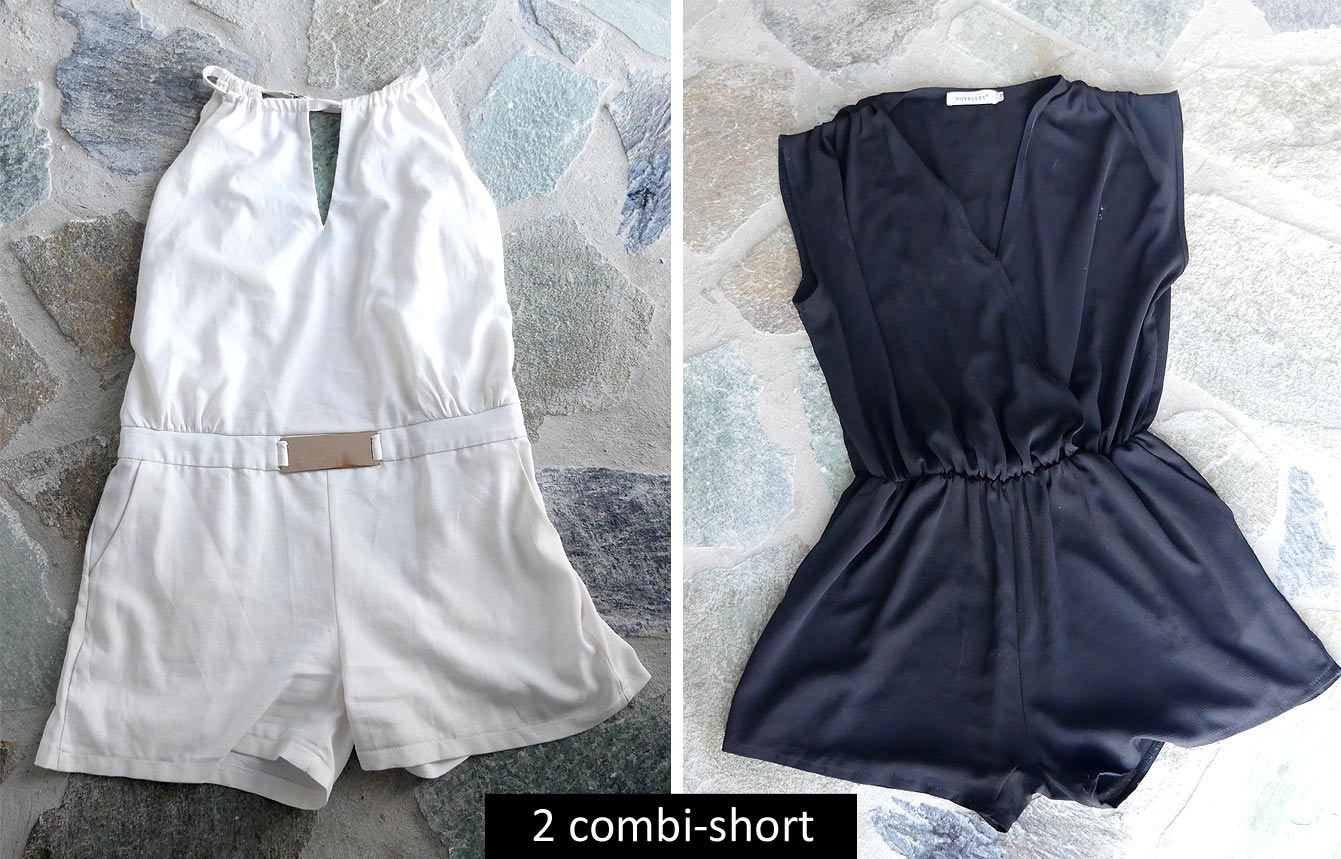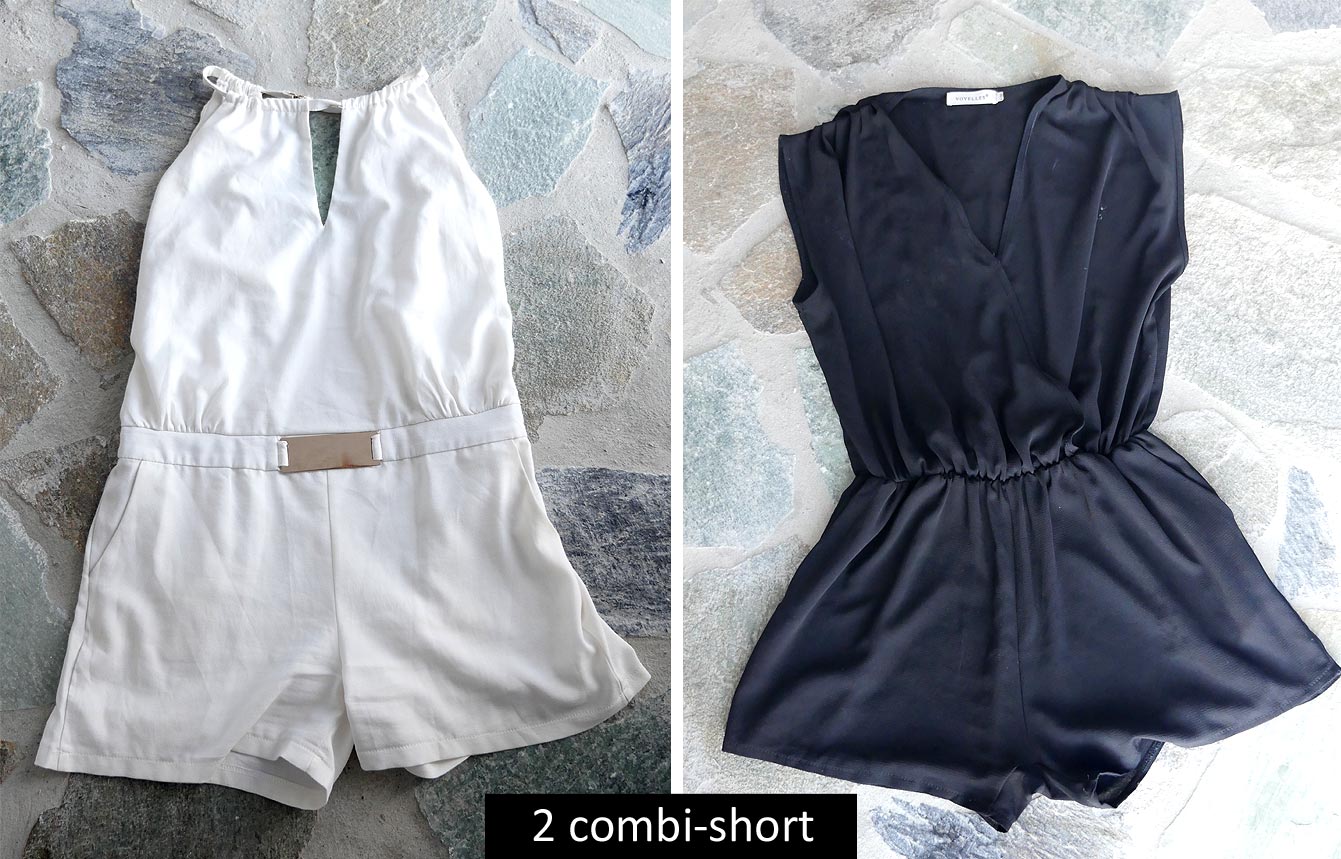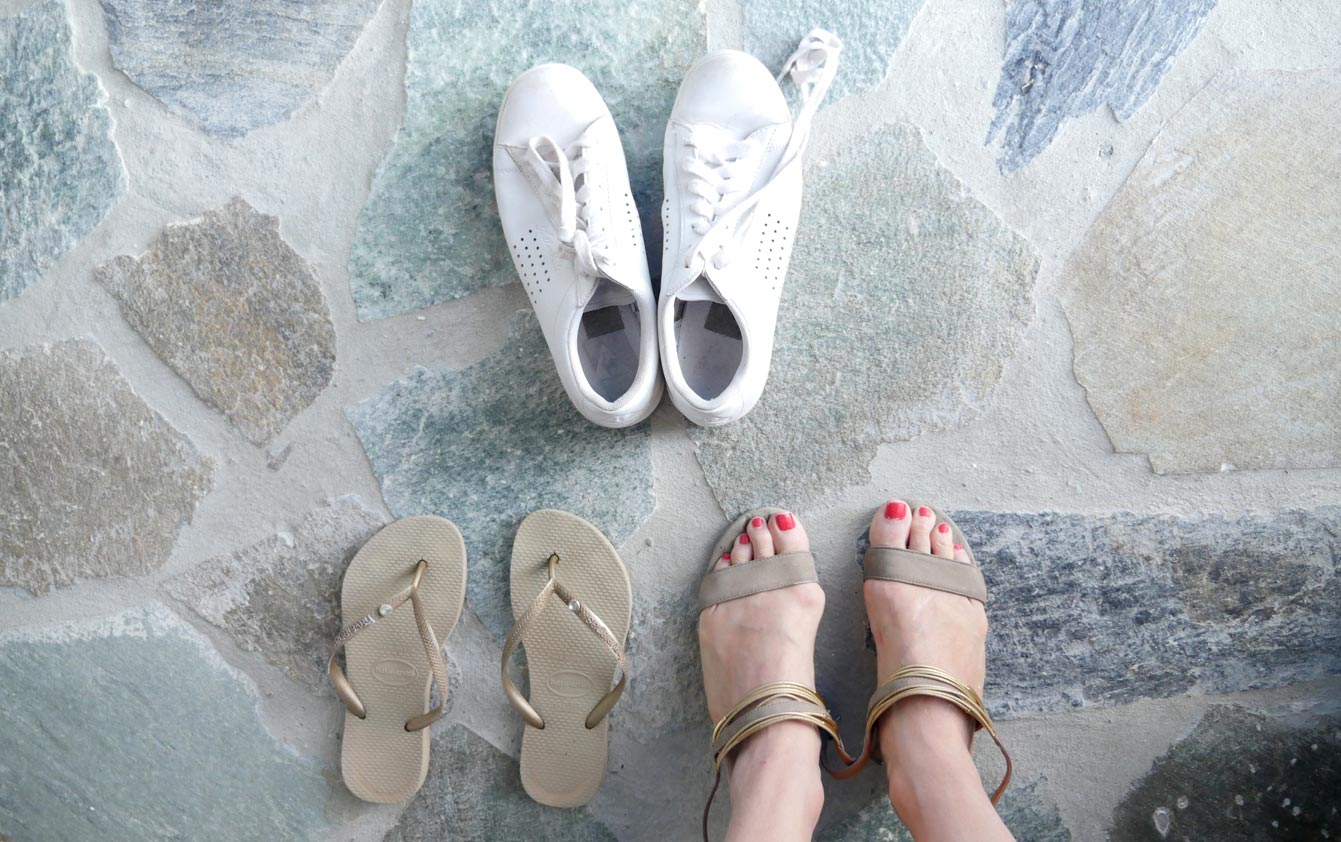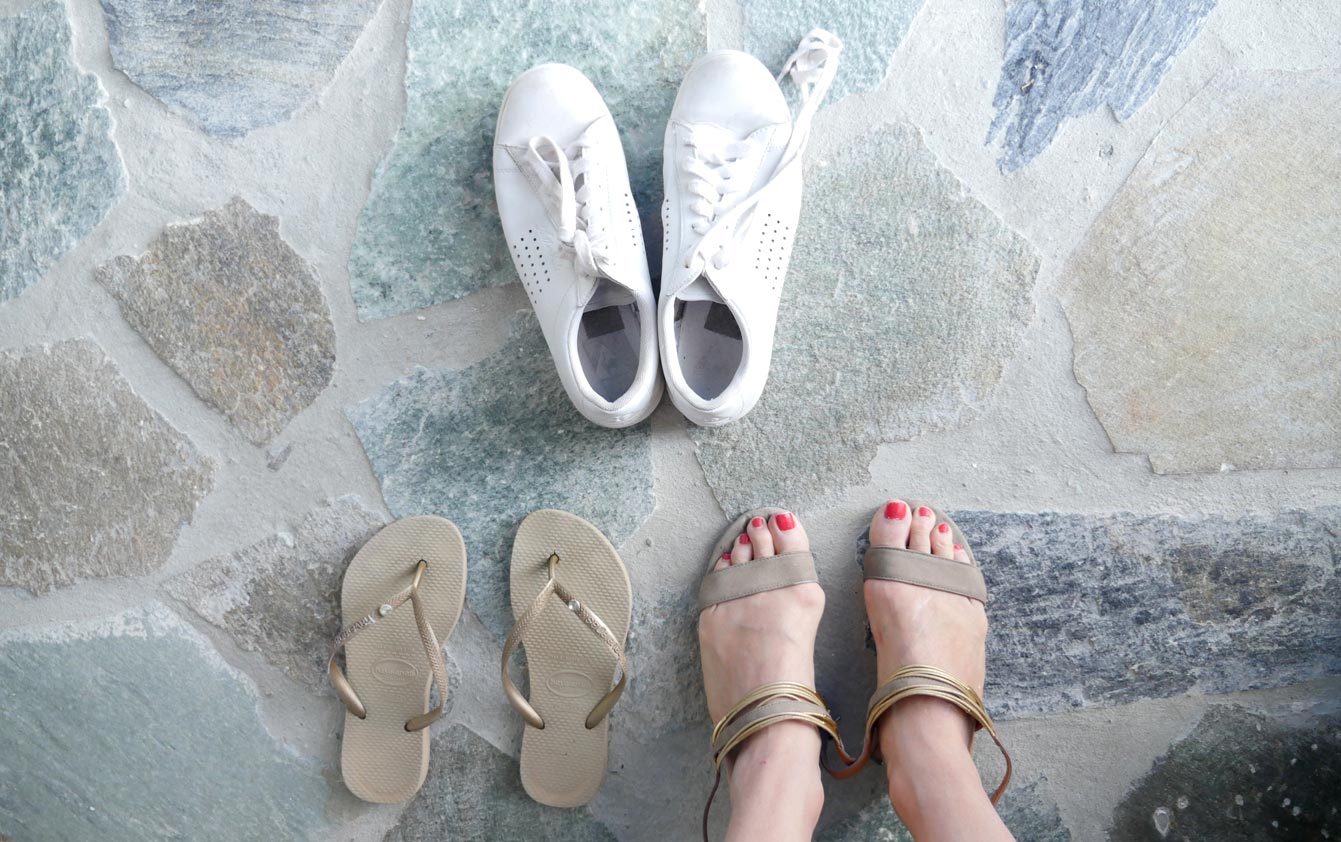 3 pairs of shoes: tong, basketball, sandals
○ Toilet case ○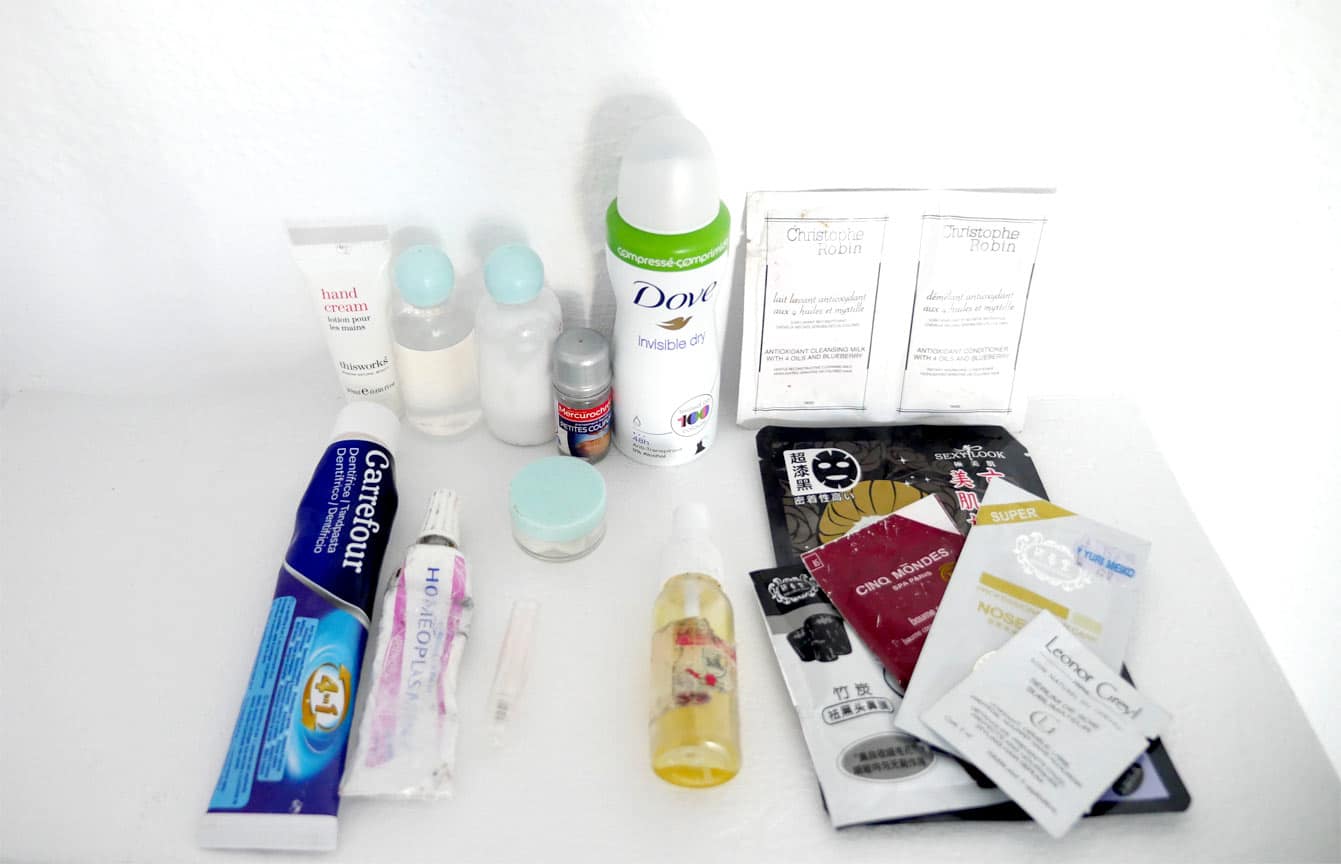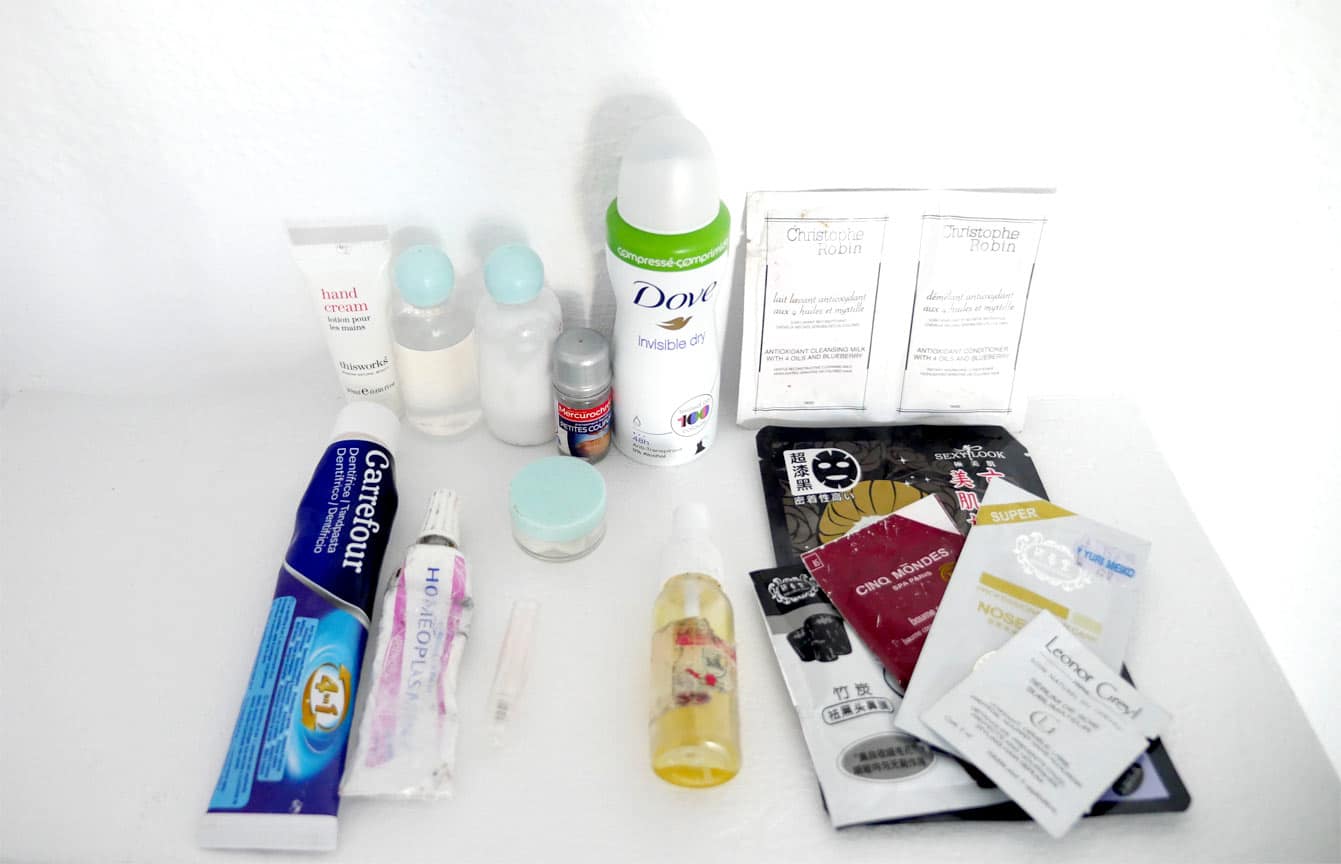 All this comes in an air pocket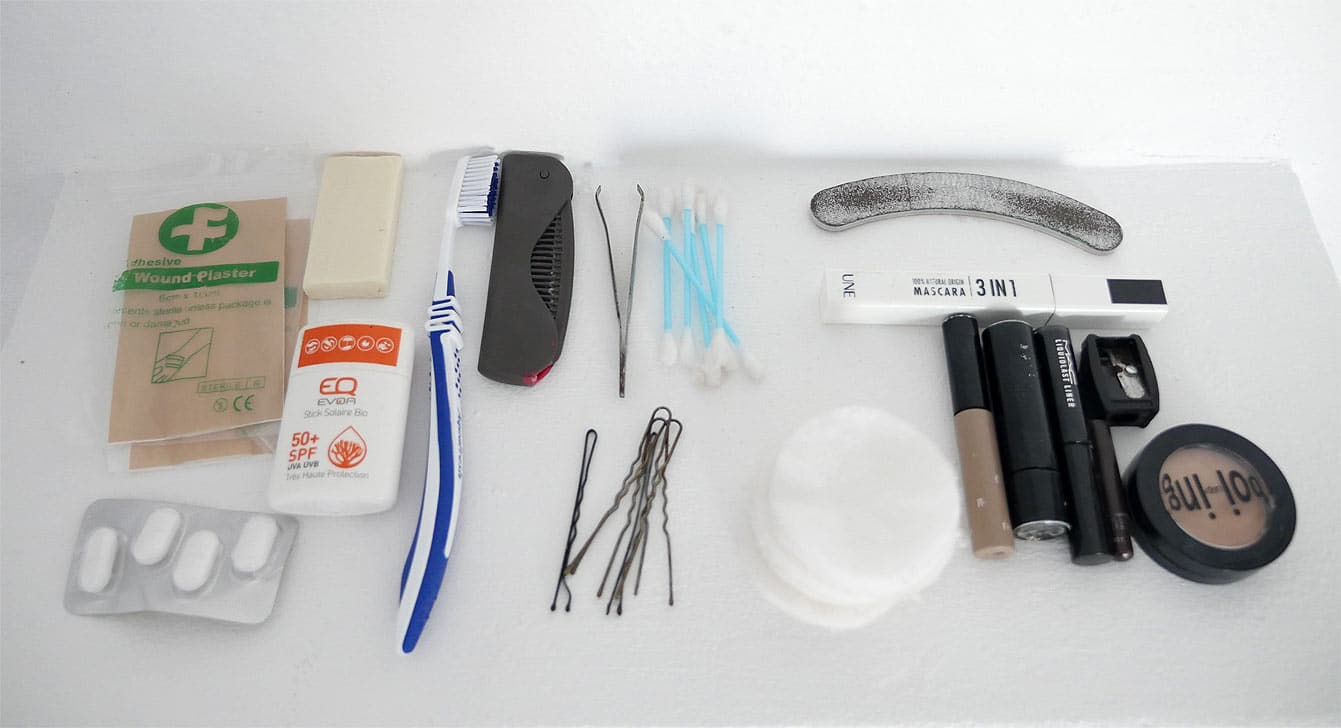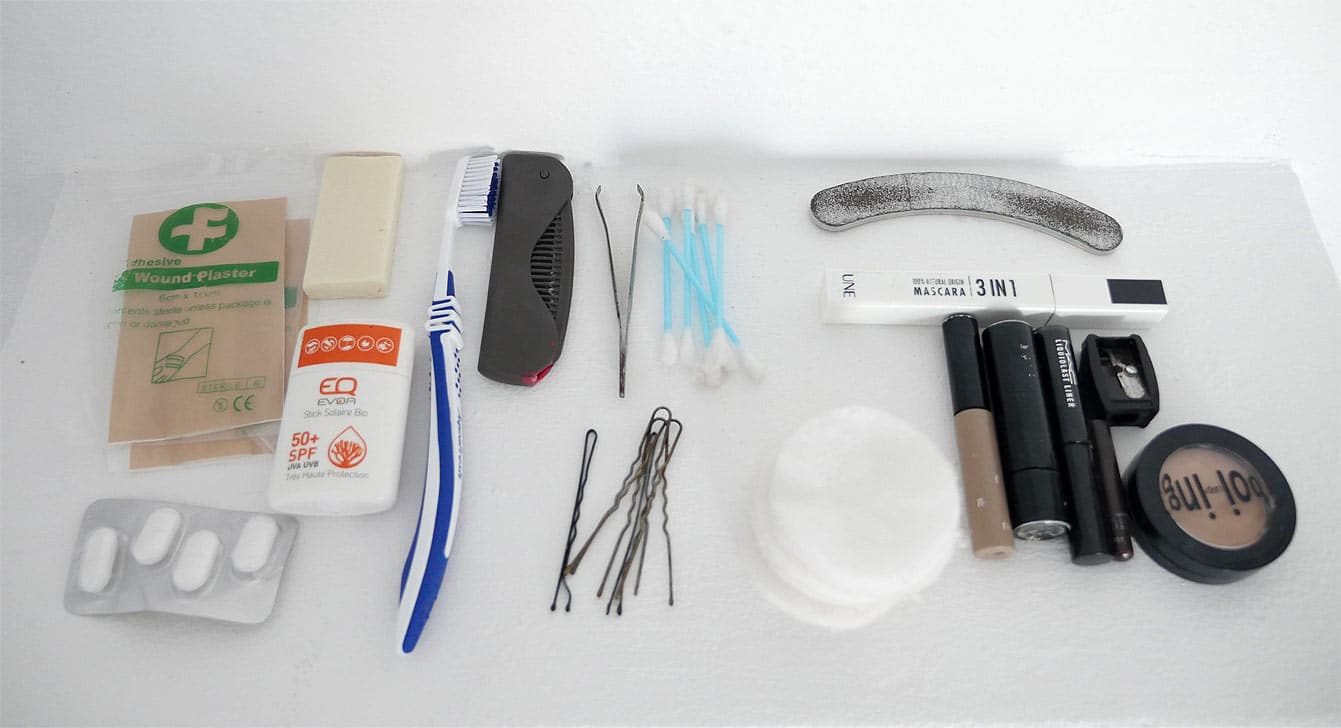 Makeup pouch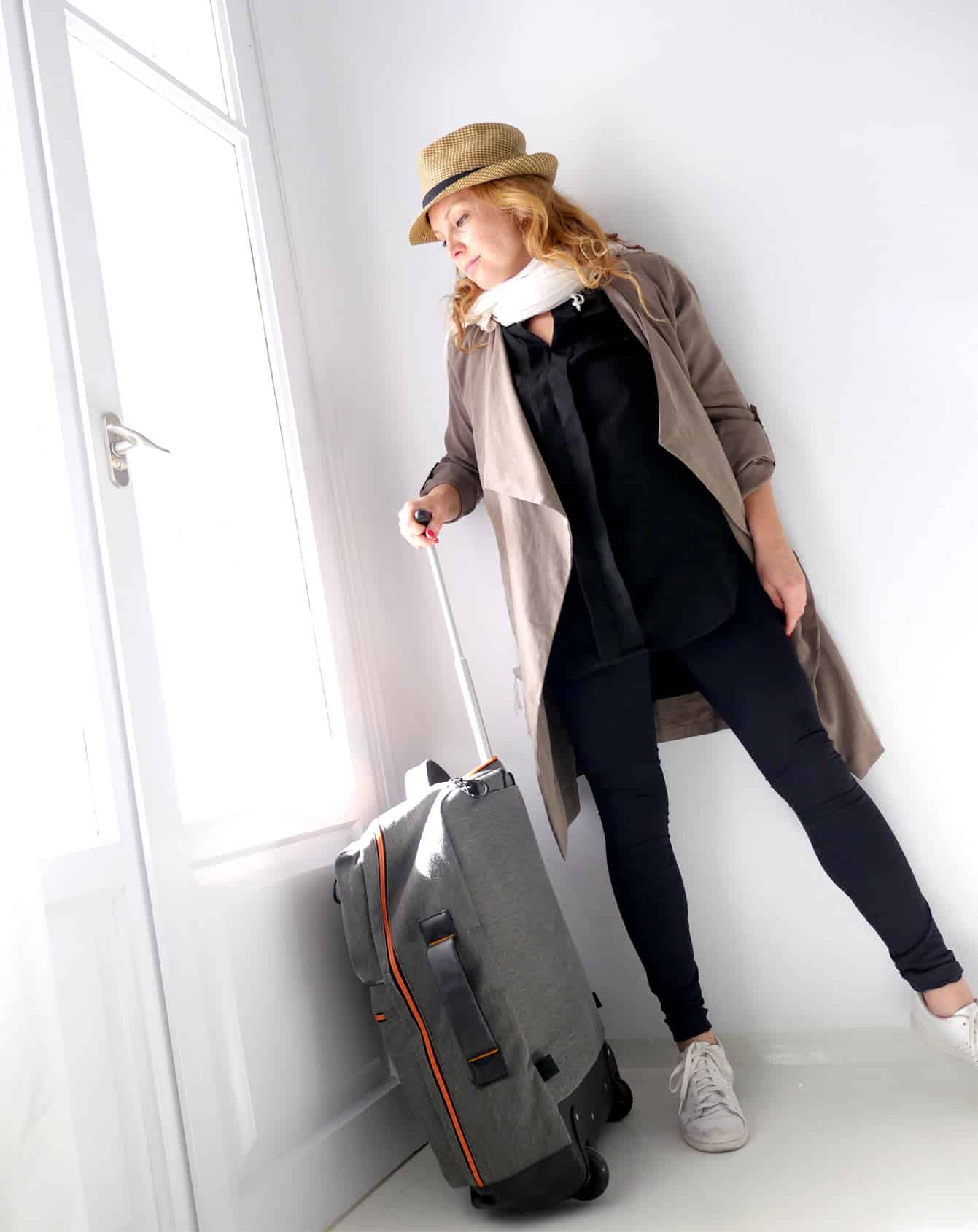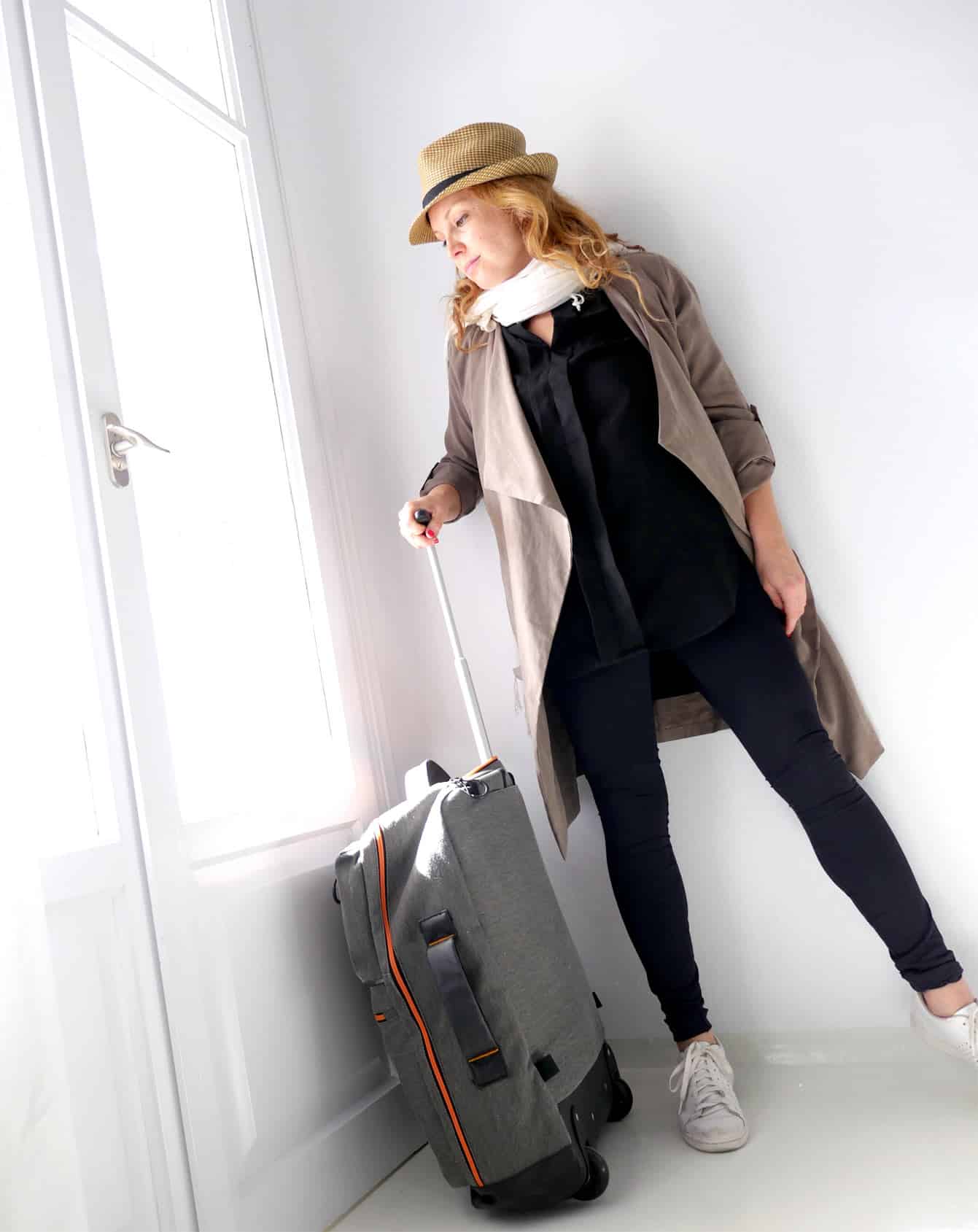 Go !