That is

to say

:

no

checked baggage

and

less than 10 kg
Travelling light, a dream? Not for me 🙂
For a destination to the sea, this challenge is easily flip to avoid check a bag with low cost carrier or not.
And what a pleasure not to expect her suitcase on the treadmill after arrival and travel light during transfers, ferry, bus, etc.
Just a little organization and follow my tips to put all his affairs in a free hand luggage.
♦

The 14

tips

for traveling light

♦
1 / We select the pieces whose colors and motifs assemble them … and YOU are doing well.
It requires trying all her outfits before storing them in his suitcase. … I know this is long but effective to avoid ending up with a bullseye shorts that you or a stained piece that tends towards the style « mop« . So choose a low (shorts, skirt, pants) that goes with all tops you will take.
Same fight for shoes: my pair must be worn with all my outfits so no eccentricity. Personally, I like the caramel color, not bland and goes with everything. Yes all. The cm² expensive.
Knowing that there can be carried easily 3-4 days, just 2-3 up. The number of tops that is according to your degree of sweating. But I remember at the beach, it gets dirty less quickly, especially if one spends time in a swimsuit …
2 / No big sweater, but a sub-pull, 1 vest and sleeves. Better overlay pieces in cold for then use independently. If you must go with a coat, take the one that has the most potential large pockets …
3 / It goes without saying but hey : check the weather (if needed a waterproof) as possible to the light materials, permanent press and whose drying time is fast whether to wash. Roll your clothes instead of folding them (they will be less wrinkled)

4 / If possible, avoid bringing your favorite clothes. They can be damaged or lost. And if you decide to leave or give them there … so make the most of the clothes that we are not attached (not always obvious).
5 / Bookks : I always take pockets and purchased used to leave them where they once played. I gain weight and without regret. And I do enjoy other …
6 / We opted for versatile pieces : eg my sarong is used as a scarf at the airport. The belt of my robe, I recovered for use in other outfits, my soft shorts can also be used as pajamas …
(Personally I never take towel. In hotels and hostels, there is the beach and my sarong enough for me)
7 / Doors heaviest clothes and a maximum of business at the airport. Personally, I never take jeans, I always travel in leggings. Then less space for storage in the trunk and more comfortable on the plane.
8 / Weigh your suitcase before you go and try to reach 8 kg. If you bring back memories … (roller suitcase and hard shell. 2 kilos already a general dimensions are 55 x 40 x 20 cm Attention wheels count.). Choose a fabric bag resistant to save weight. Tip: the shoes can contain lots of small objects.
9 / For the transparent pocket « toilet », we buy bottles being filled. Please make sure that they are well suited if certain liquid products vanish before reaching destination: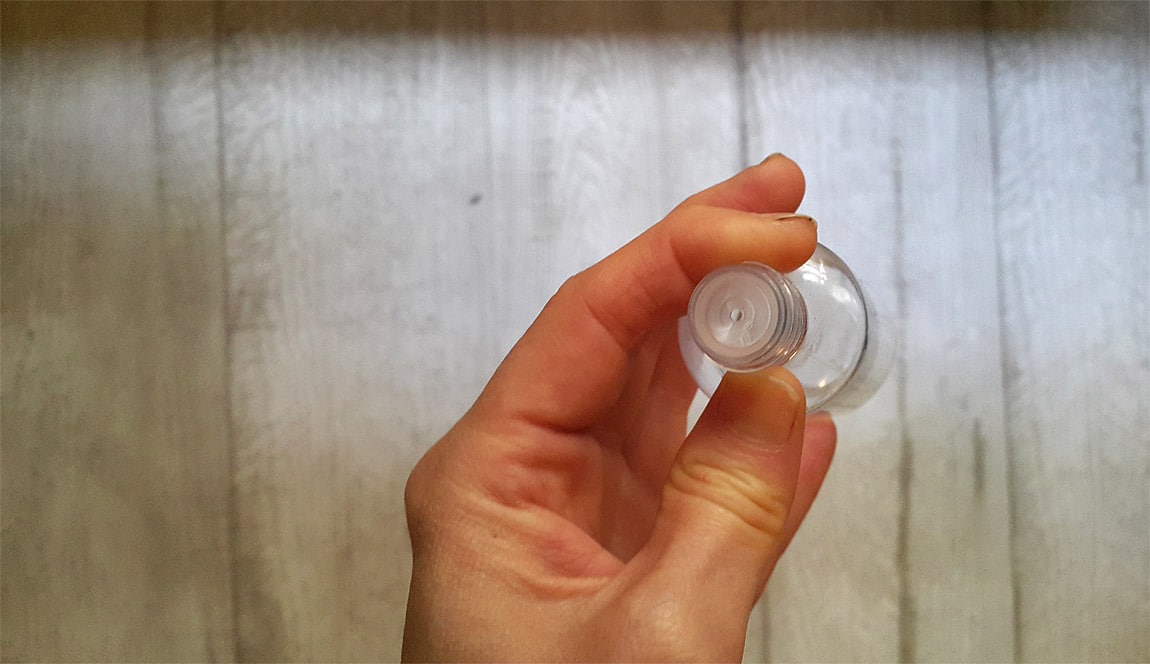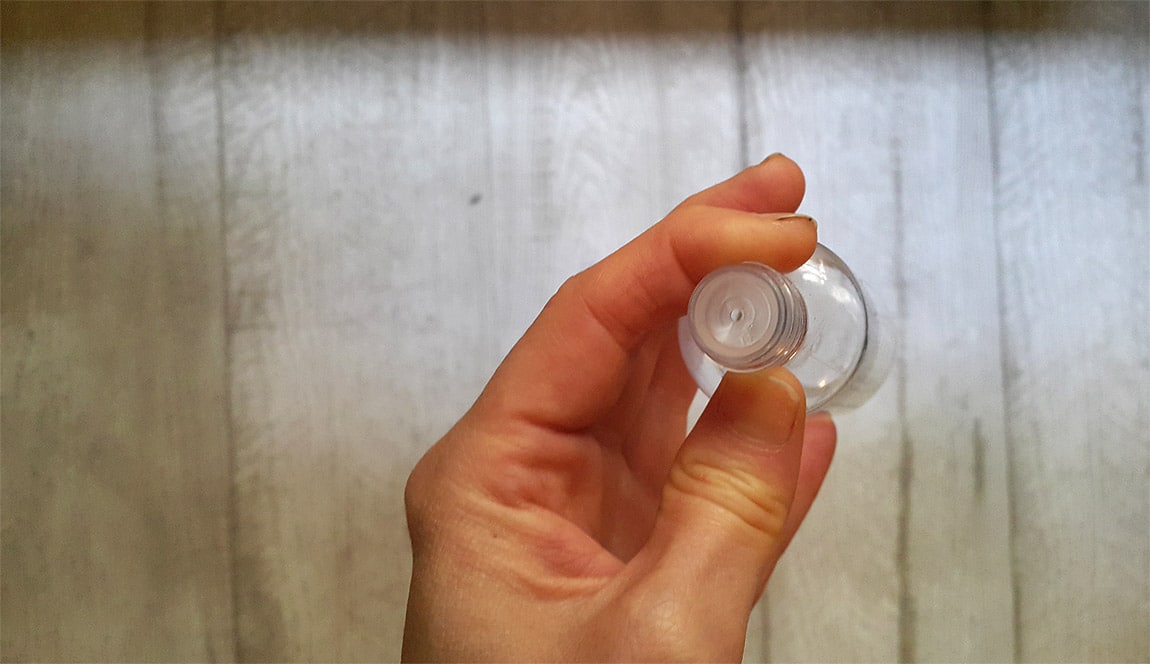 With this

« 

tip » is

perfect,

the liquid does

not flourish

…
Personally,

I wind

the

tape to

move

to prevent leakage

.


No shower

gel

, take

a little

soap.

So, it

is no longer

liquid and

saves space

in the kit.

For shampoo

, I use

samples

in magazines or

offered by hotels

.

For my

brush

, I use a

retractable

comb (

cm

every

count

…

(repeat)




As for

the solvent

,

not

in plastic,

I

have experienced

: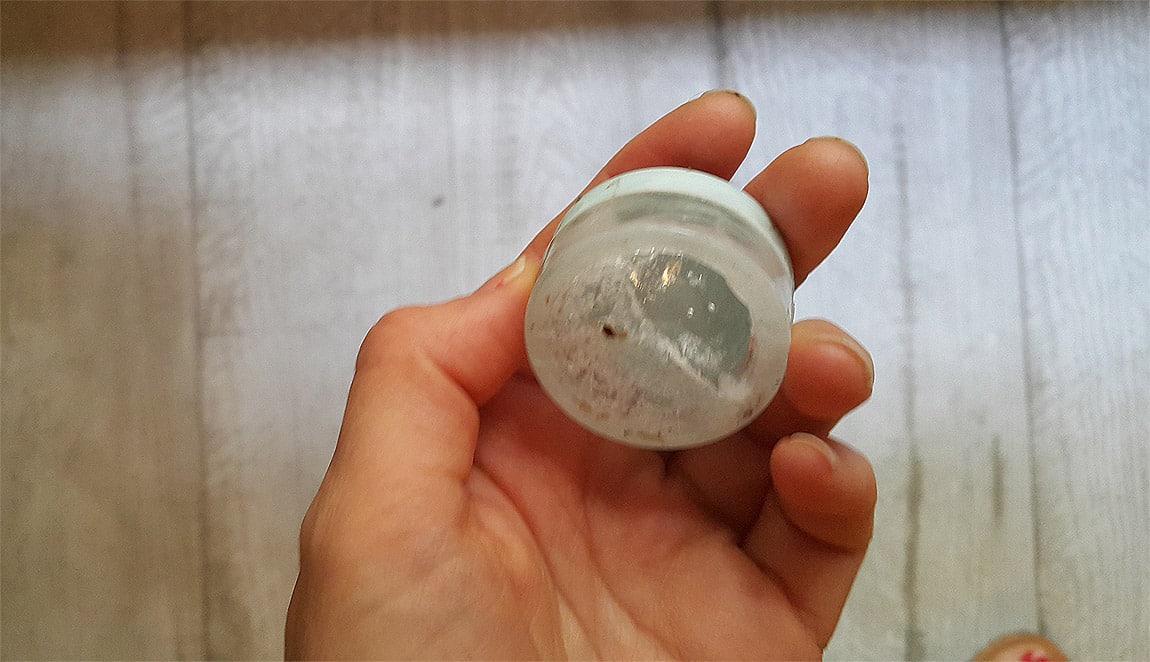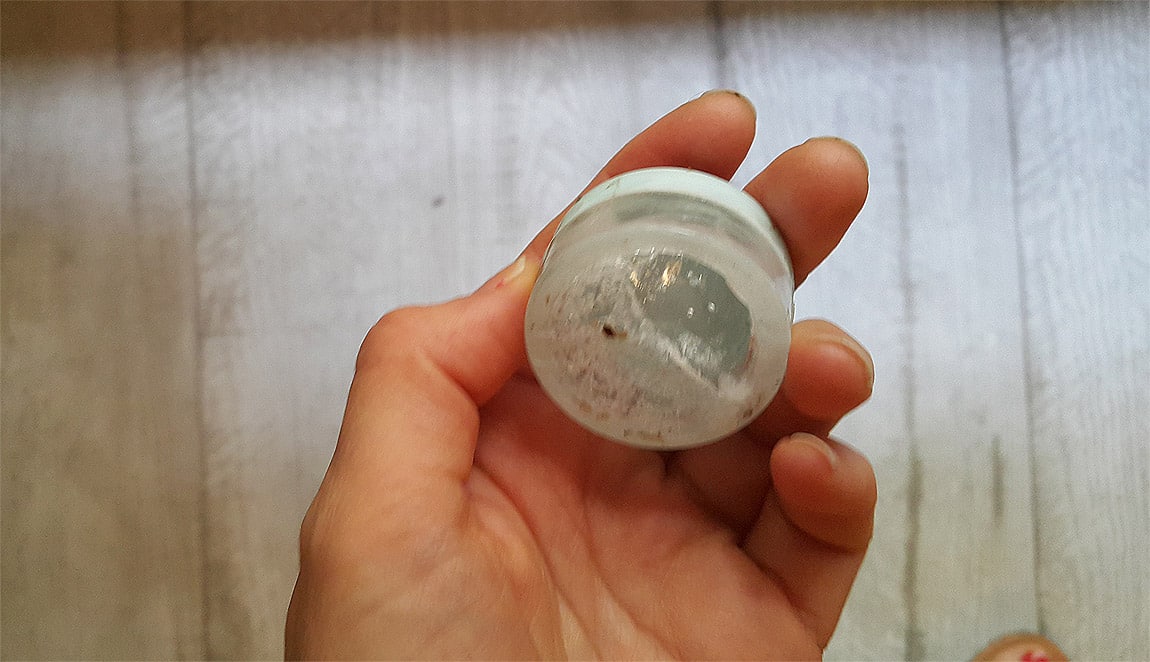 The

dissolving

the pot

burned

like acid

…




If

you need

to buy

as much

wipes

without

acetone

planned

to travel
10 / Take photos pages your travel guide that will be useful to avoid to take a big pad …
11 / Be aware of companies regulations with Vueling you can take a handbag and more. Which is not the case with Easy Jet …
12 / Buy locally sunscreen, insect repellent (at least to within 100 mL) and razor.
13 / For Pharmacy kit, see my « check list » and you see what you have space. Take your priority treatments and medications not available locally.
14 / Dosette detergents and pods as possible or even mixing. As the mask and scrub « Fairy Secrets » I speak soon on the blog.
♦ More … ♦
Flashlight, alarm clock (my phone does everything), waxed, sewing kit (warning no cabin chisel), umbrella, transformer / plug adapter, lens, driver's license, laptop, tablet, go pro, you see depending on destination. My Download list does not include these elements, but you can add them in « Others »
♦

My

download

list

♦
Gift! My special trip list cabin, complete according to your printing needs and about each trip. In the boxes, or you check, you either enter the number to go. Sorry… it is en French language
CABIN LUGGAGE LIST SPECIAL BEACH DOWNLOAD
♦ 

Inventory

of

my suitcase

on my last

trip

on an island

♦
Résults :

What I did not use : my mini-skirt, my top hook (not hot enough), foot (the camera was too heavy)
What I missed : 3 other sock pairs pod detergents, mosquito repellent, soothing bites
(anti mosquito island was not as effective as the one bought in France)
Purchased locally because not possible cabin suitcase : razor and solar cream
Keeping

travel

/ airport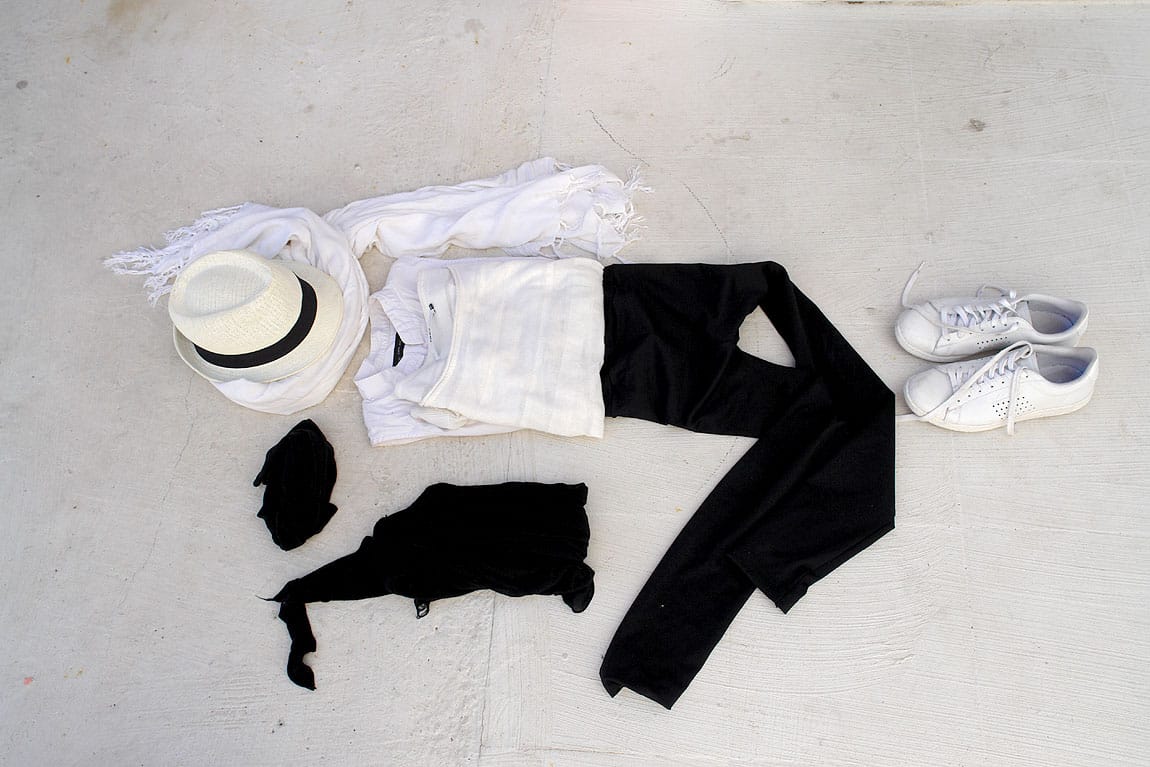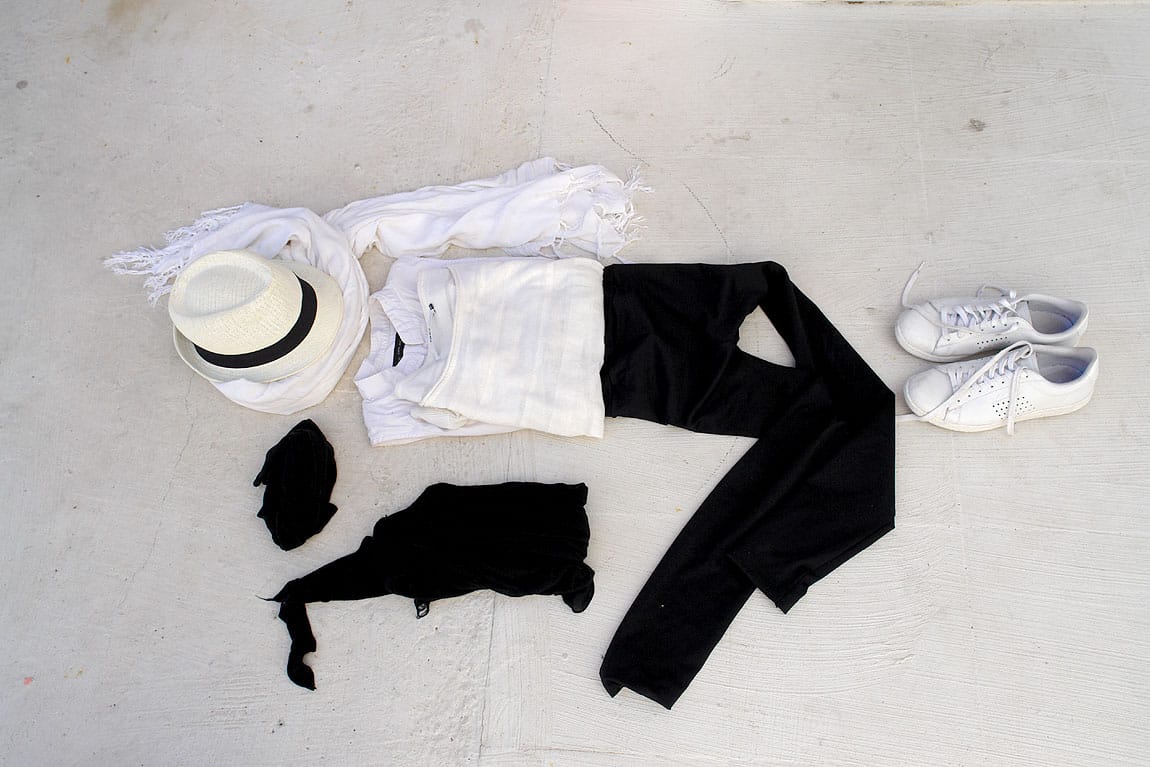 The heaviest

clothes and

warm

,

I wear

on me.

1

light white

sweatshirt

,

1

sarong

scarf

making

, 1 pair of

round,

1

leggings

, hat,

soft black

jacket,

a white tunic

which also

dress



Contents

of the backpack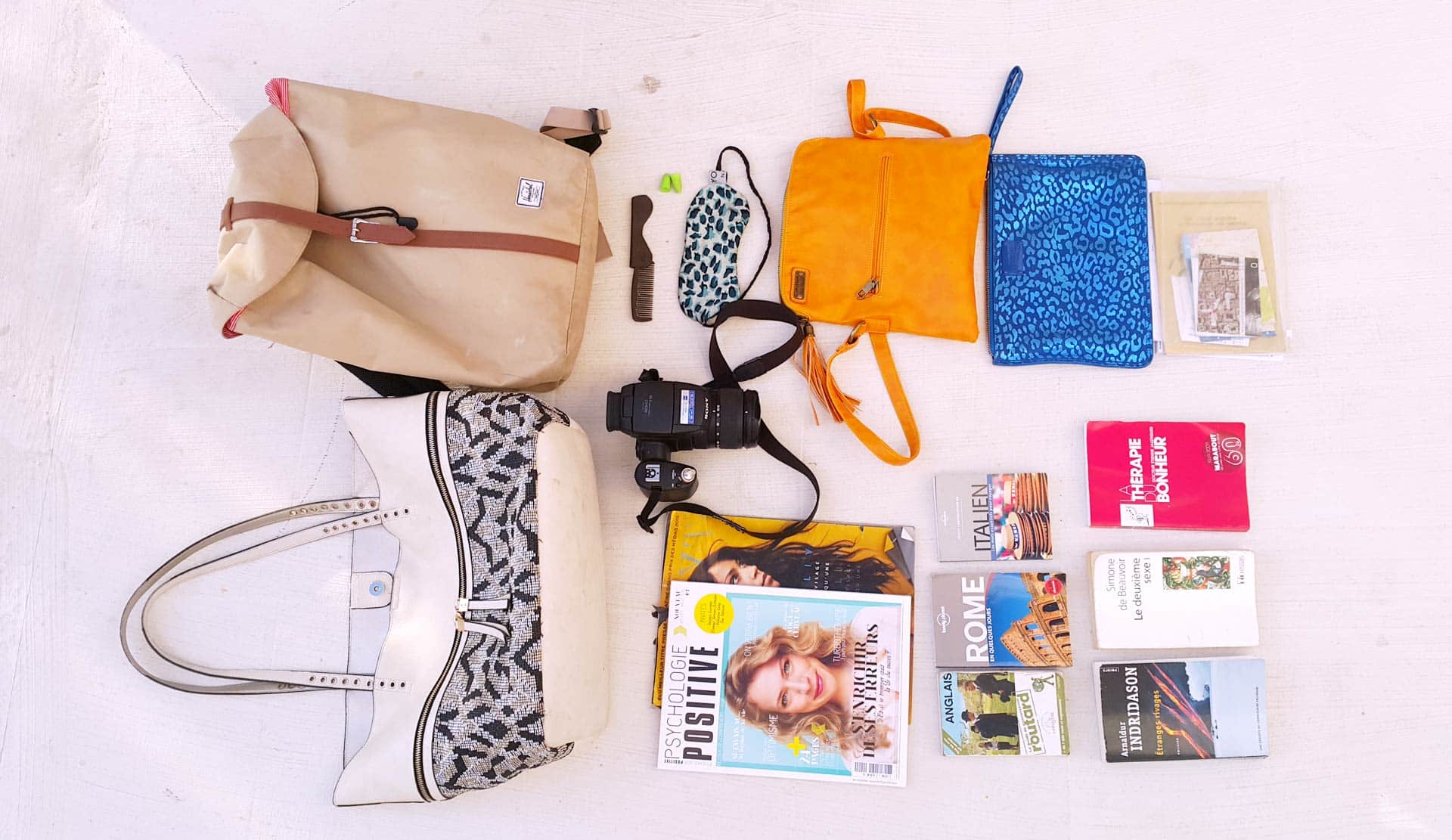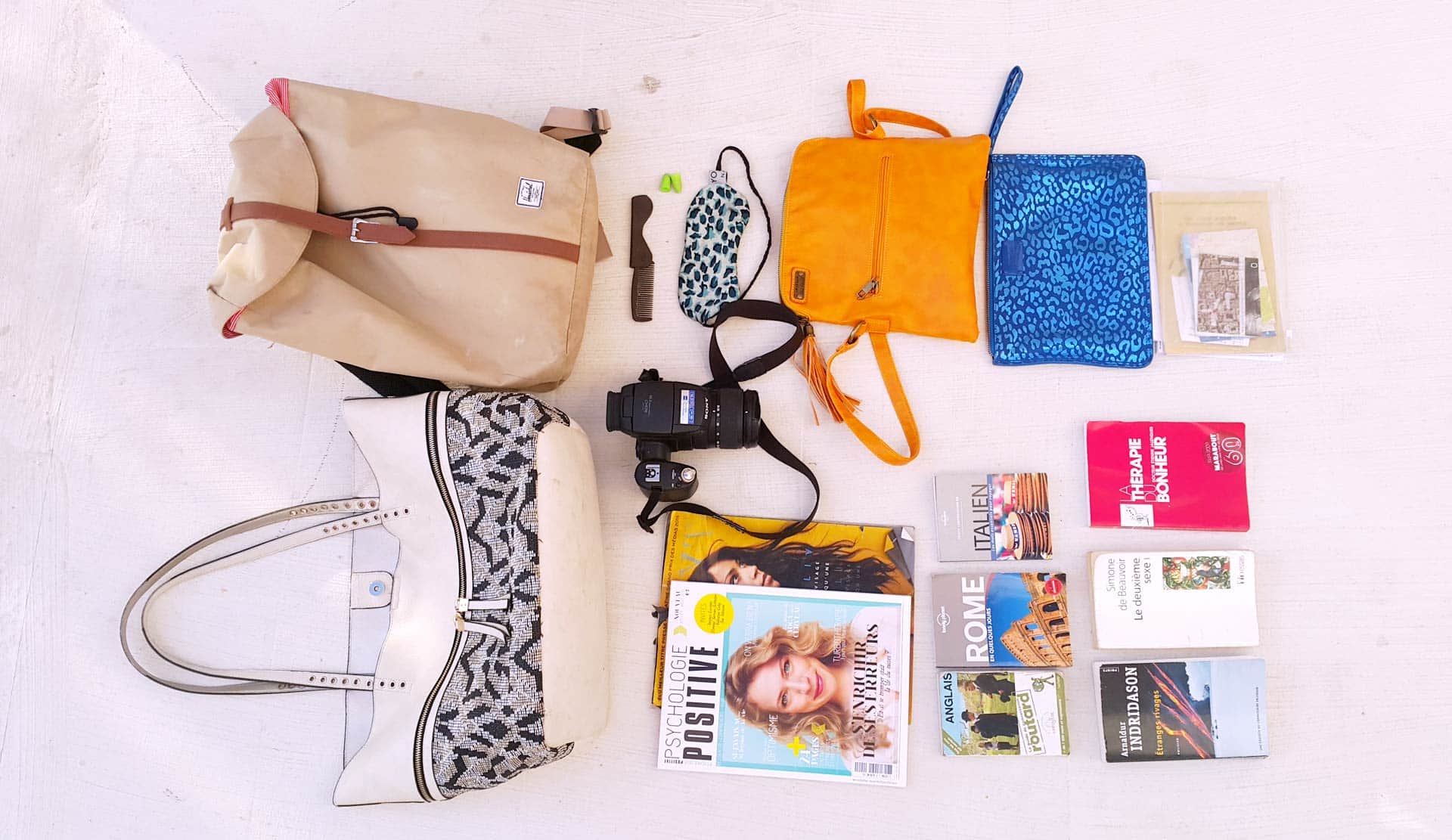 L'idée, c'est de laisser les magazines (j'en ai déjà jeté 3…) et laisser les livres sur place : 1 sac à main jaune, 1 grand sac (plage et ville), Carnet de note, appareil photo, livres, 4 magazines, 1 guide sur Rome, 1 livre de conversation, Boules kies, 1 masque, Médoc mal de tête, Pansement liquide, Pansement normaux, 5 paquets de mouchoir, peigne rétractable, une pochette bleue, un sac à main jaune + Trousse toilette, Trousse maquillage (plus facile à sortir lors du contrôle des bagages à l'aéroport que dans la valise)

Contents of the bag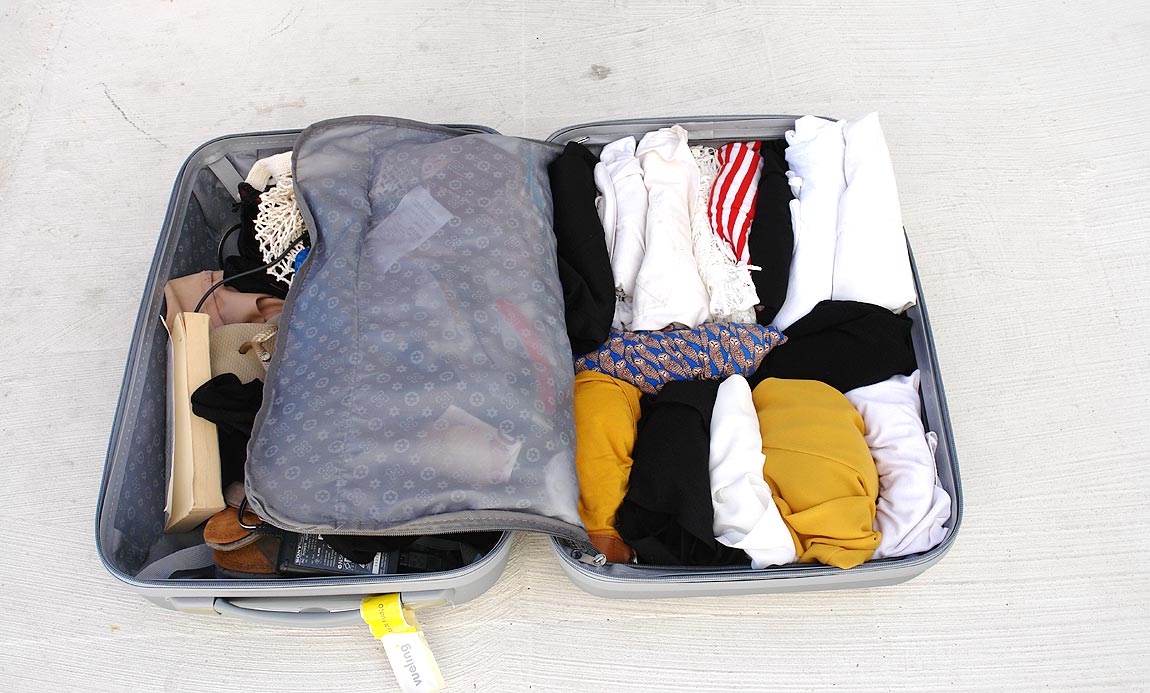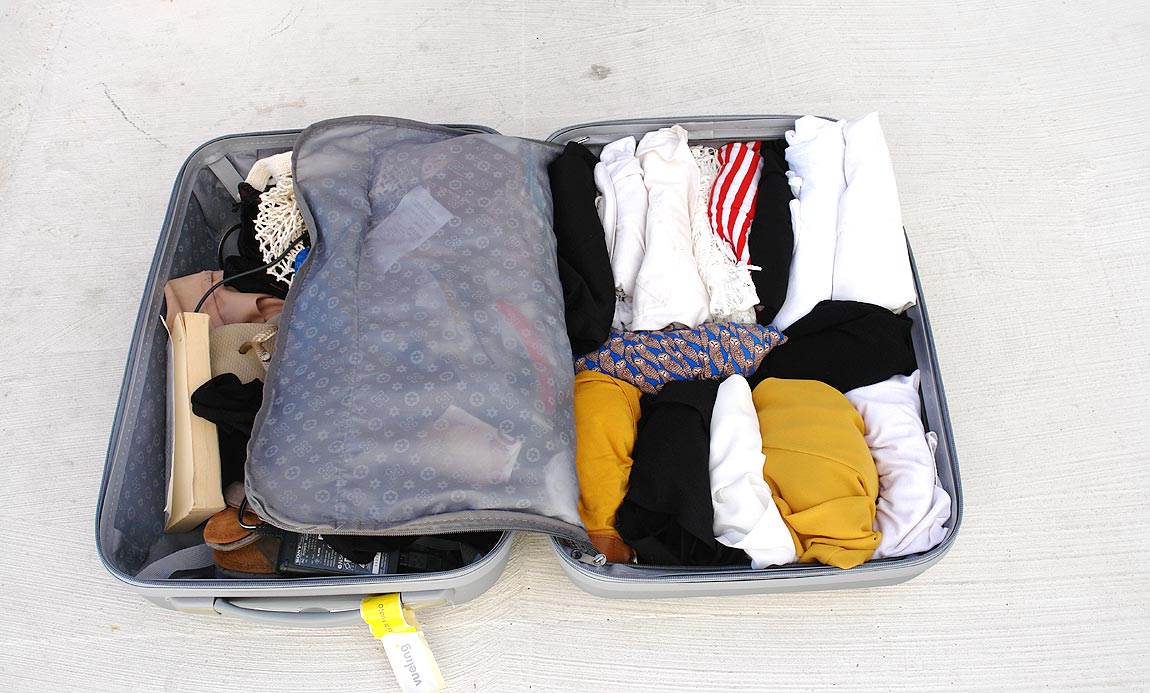 The idea

is to let the

magazines

(

I already

threw

3 …)

and leave

the books

on site

:

one

yellow

bag

, 1 large

bag (

beach and

city)

,

note

book

,

camera

photo,

books,

4

magazines,

1 guide

on

Rome,

one

conversation

book,

kies

Balls,

1

mask,

Médoc

headache,

liquid

dressing

,

dressing

normal

,

5

handkerchief

packages,

retractable

comb,

a blue

bag

,

a handbag

yellow

+

dressing

, make-up

kit

(easier to

get out

at the

airport

baggage screening

in

the suitcase

)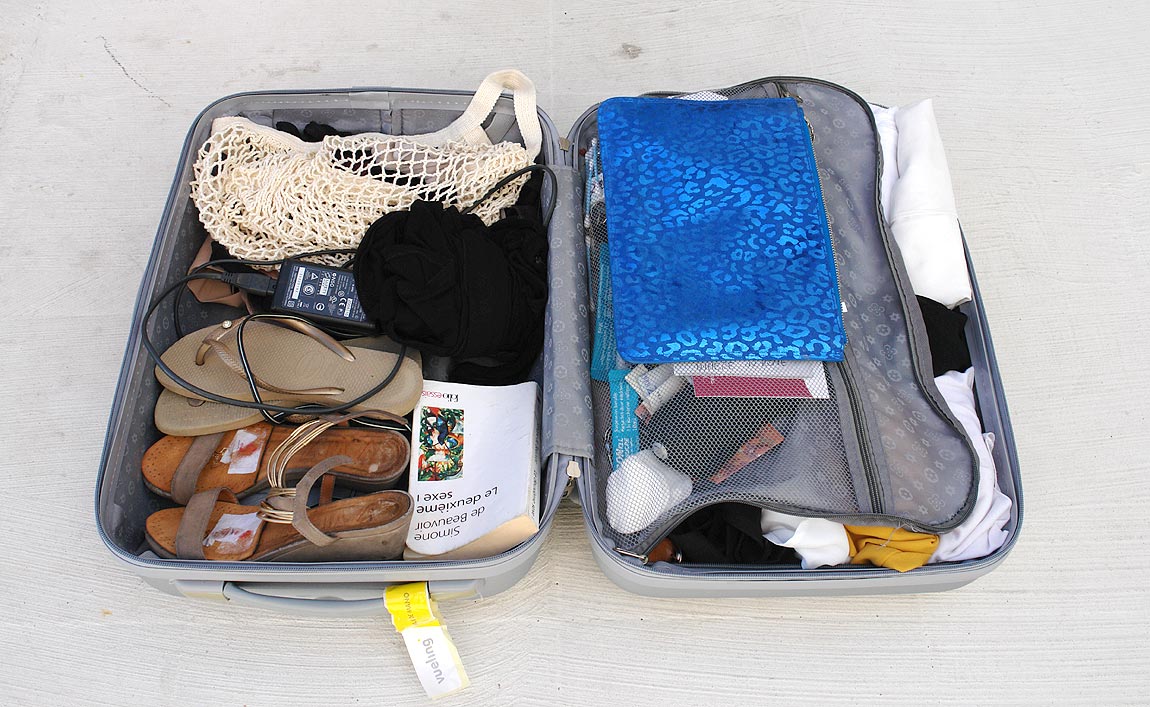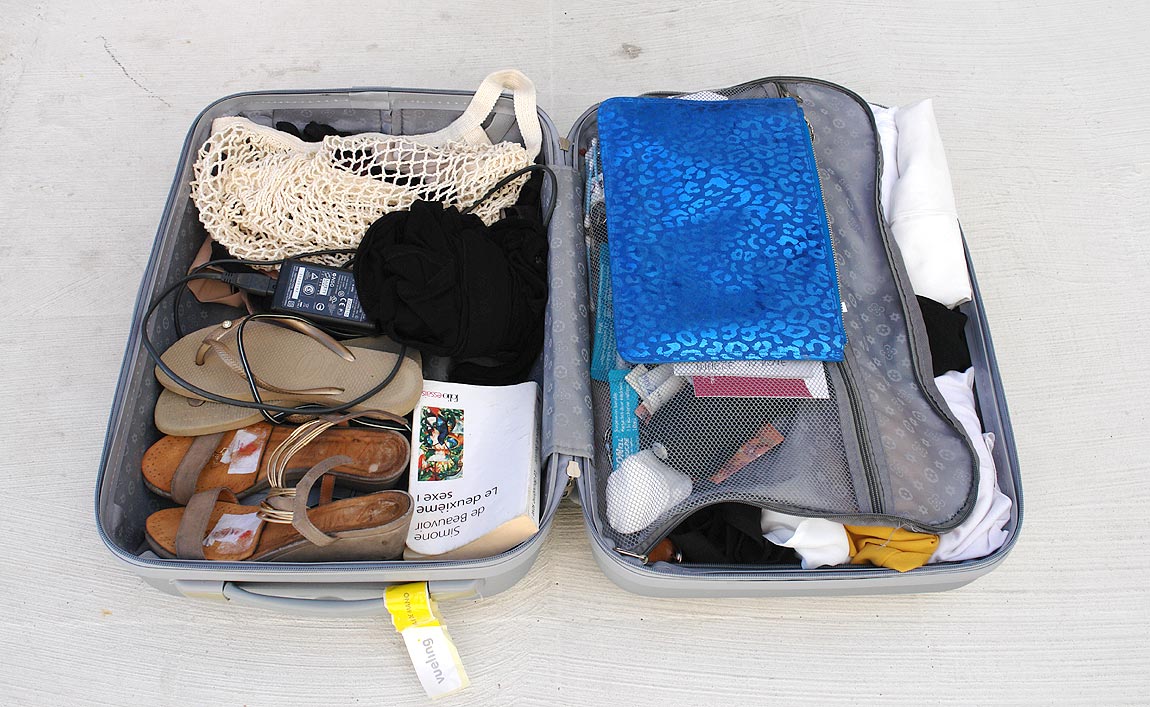 1

tripod

,

1

belt,

ephemeral

Tattoos

,

one

clear pocket

,

one

crocheted

bag (

not used)


Jewelry

(2

rings,

two

bracelets,

two

pendants,

one

pin

)

never used
Toilet Case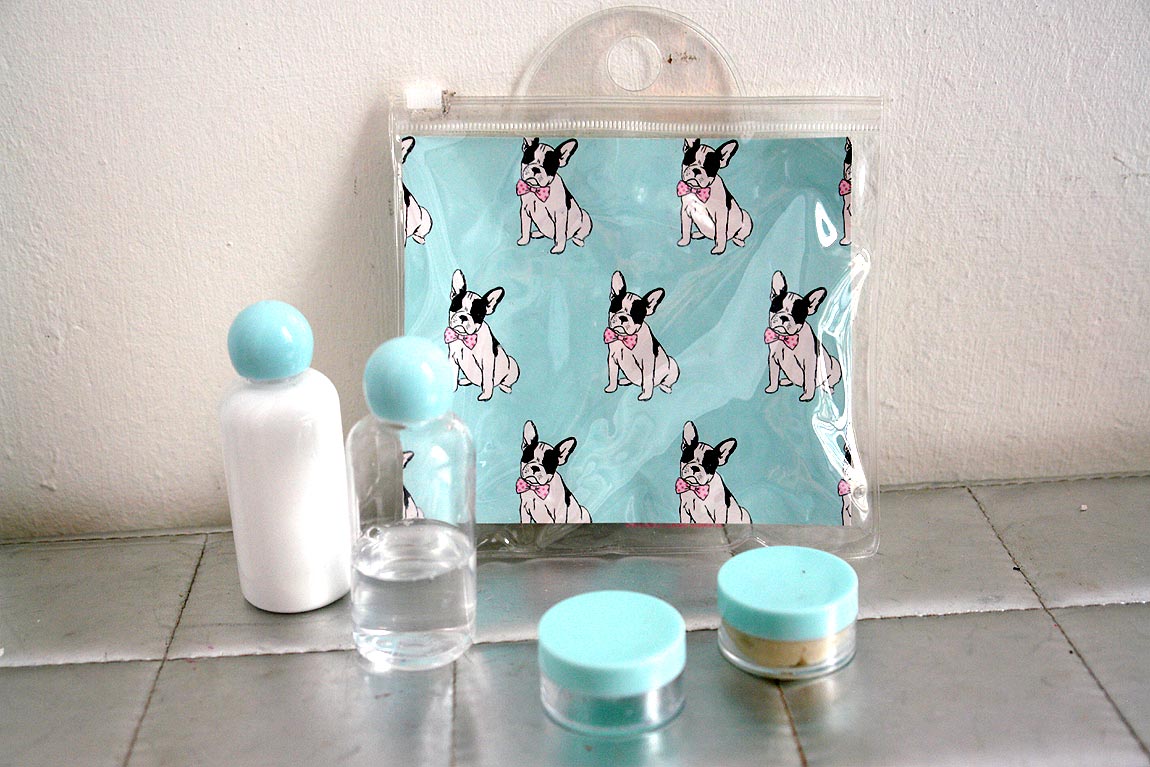 Bottles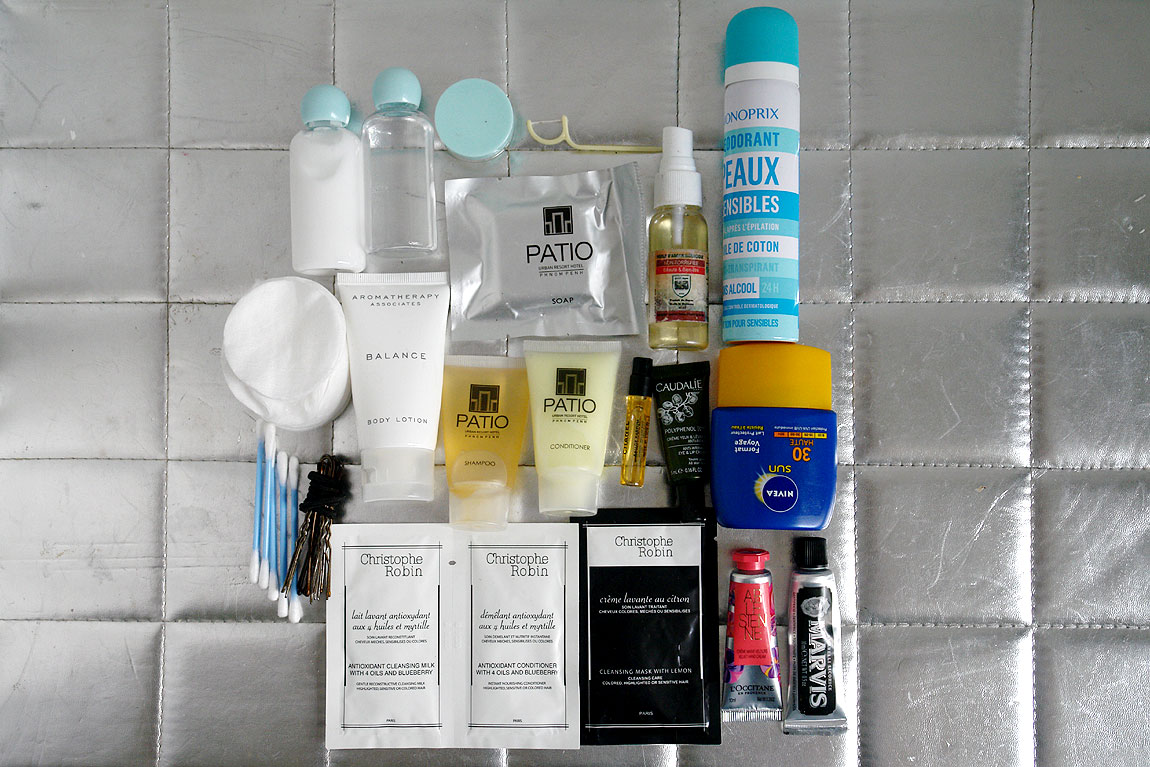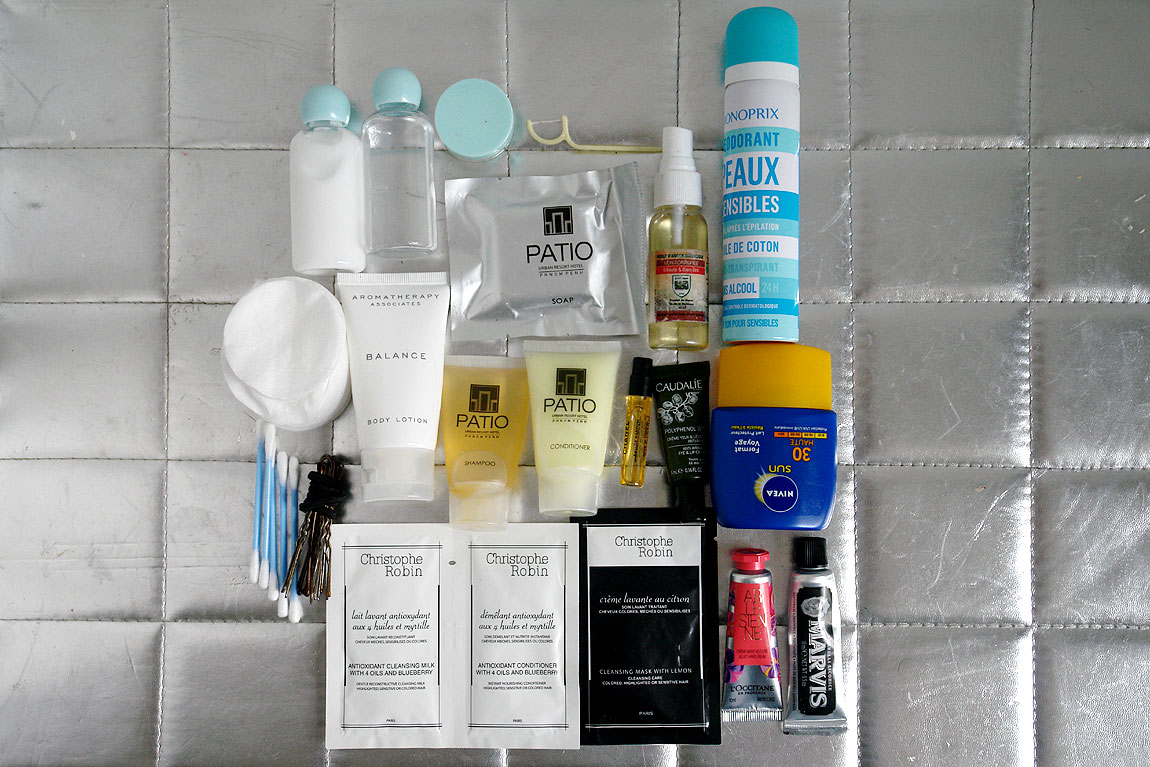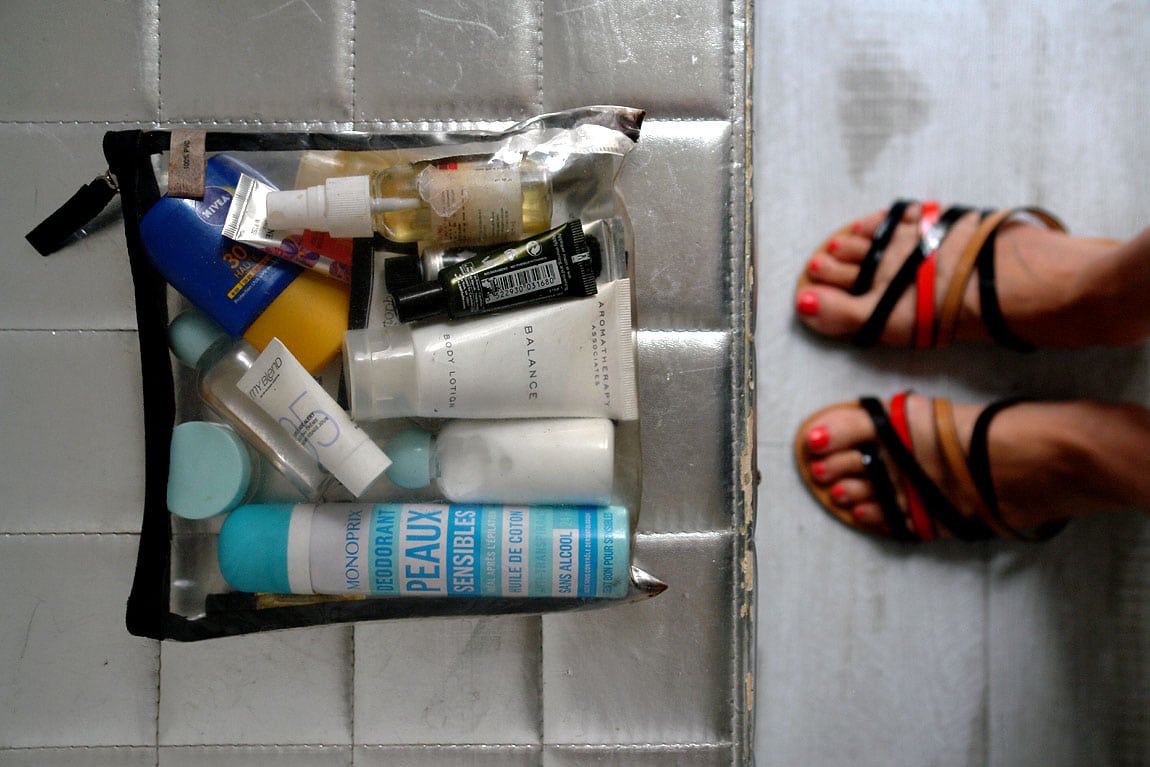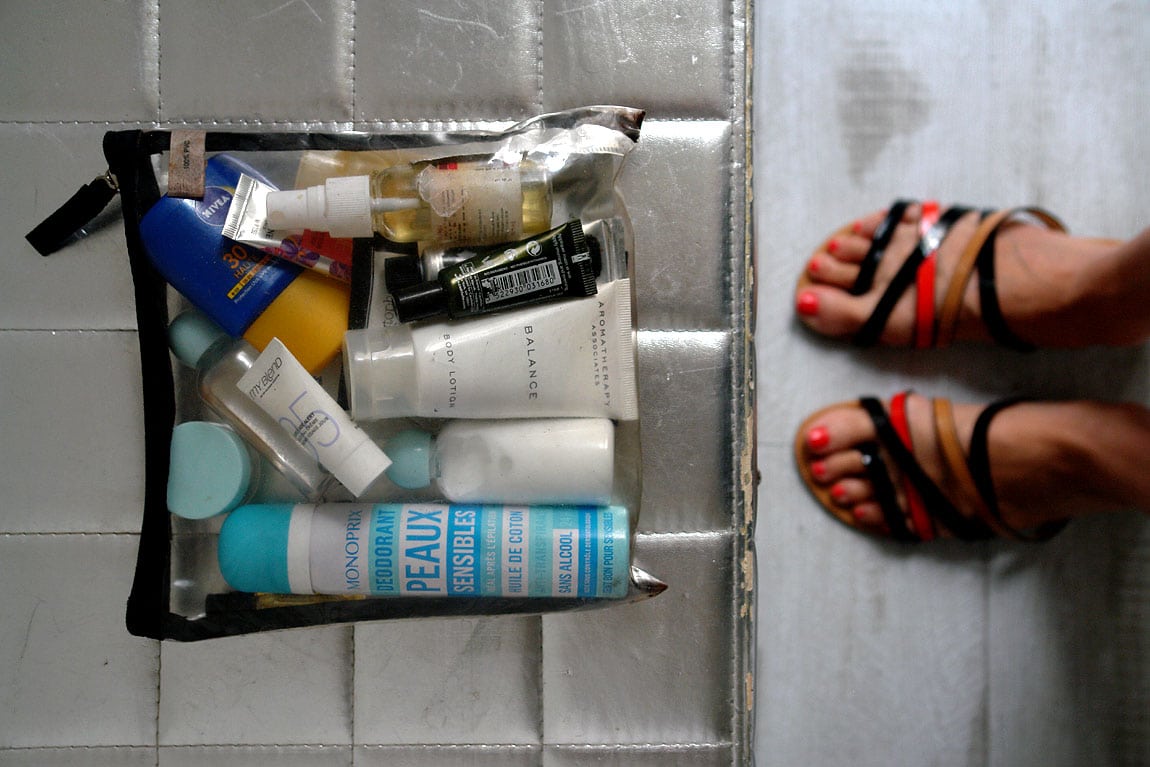 Make up bag