At Caudalie, they understood everything.
Divine legs…
Caudalie anticipated long since time that crap would befall the whole of France in the spring and early summer. Certified Mediums, they did learn by giving them « body tinted fluid » of the adjective « divine ». Or « Jambes divines » in the text in French. A product that provides a subtle tanned skin color, worthy of an exquisite and sunny weather.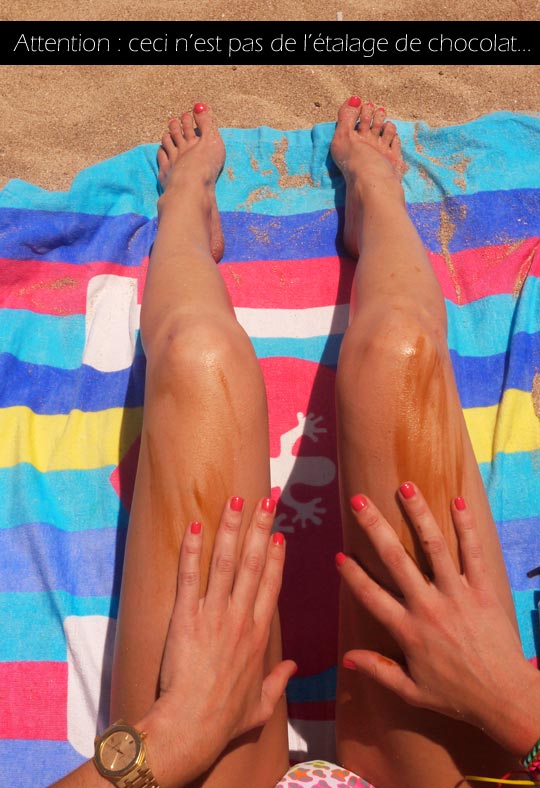 Why it's great ?
Because your legs will own this golden hue to divinity without either go for Jill Masterson …
It's also nice when your girlfriend innocently – after multiple applications on the body before going out in clubs – Embedded your « divine legs » in his luggage and you end up waiting for his return to finalize the ticket you started when it was still cold in Paris …
(if not, I love the product and the perfume of course, it can be applied elsewhere on the legs.)
One last tip for the road …
Shave before. I'll tell you a secret. Having the blond hair, I often forget to shave my legs. I discovered what was to be a brown molasses brown hair tinted by the product. It was not folichon …
PS: the pictures at the beach is more fun. But to put out in the evening or during the day outside of the beach …
Praticals informations
JAMBES DIVINES
Body Fluid Tint
Grape Oil, Carob Extract
25 euros a bottle of 100 ml in order on
Caudalie
.